You'll Soon Be Able to Get Your Abby Wambach US Soccer Barbie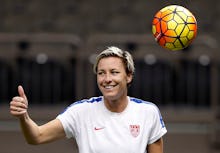 Abby Wambach, the legendary and openly gay star of United States women's soccer team, is getting her own Barbie.
The announcement, at the Makers Conference Wednesday, comes amid a flood of good publicity for the Barbie brand. In January the company announced it gave the iconic doll a body-positive makeover and released a line of petite, curvy and tall dolls. 
That led for a call for a Ken doll makeover, which clothing company Lyst imagined up on its own:
Wambach recently retired from the team after a long and illustrious campaign, but not before a picture of her kissing her wife after winning the World Cup went viral. For Wambach, the moment was one of pride. "It was just in the moment and that's something that I'm proud of," she told Us Weekly. "Hopefully, if that can help one person feel more confident about their life, then I'm proud."
Now, Wambach is pushing boundaries again — this time with an iconic symbol of American womanhood. And she's getting plenty of love for it.
Even though she's retired, she's still winning.