Marco Rubio Lost the 8th GOP Debate, Complicating His Effort to Unite the Establishment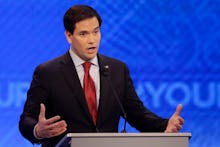 Sen. Marco Rubio of Florida took the stage at New Hampshire's Saint Anselm College on Saturday night as an emboldened contender, fresh off a strong third-place showing in the Iowa Republican caucuses and with recent polls suggesting he's well-positioned for a second-place finish in the Granite State.
But if Rubio entered the eighth GOP debate with the wind at his back, his newfound strength also meant there was a large target there. 
Rubio's rivals for mainstream Republican support — Ohio Gov. John Kasich, New Jersey Gov. Chris Christie and former Florida Gov. Jeb Bush — had the most incentive to wound the 44-year-old senator on Saturday night. Should Rubio pull off a robust second-place finish to Donald Trump in New Hampshire (or even upset the businessman for first place), Rubio will have a much easier time consolidating establishment support behind his candidacy and emerging as the undisputed alternative to Trump and Iowa victor Sen. Ted Cruz.
Rubio may yet vanquish his establishment rivals in New Hampshire. But if he does, it will be despite the bruising he endured Saturday night, mostly at the hands of Christie and Bush.
Scripted to a fault: Though Rubio's prowess as a debater and orator has propelled him in the polls and sent jitters down Democratic spines, the rap on the Floridian is that there's little of substance beneath the soaring speechifying and well-rehearsed sound bites. A new ad from Christie's campaign made that point with devastating effect this week, showing Rubio supporter Rick Santorum struggling and failing to identify any of his candidate's concrete accomplishments.
Bush gave voice to that critique on Saturday night, calling Rubio a "gifted, gifted politician" but raising doubts about whether he possessed "the skills to be a president of the United States."
"We've tried it the old way with Barack Obama, with soaring eloquence, and we got someone who wants to divide the country up," Bush continued. "The next president is going to have to forge consensus to bring about a set of common purposes so we can move forward again."
Rubio only reinforced the attack on Saturday night, particularly when he repeating multiple times a line that President Barack Obama "knows exactly what he's doing" in transforming the United States.
Upon Rubio's third utterance of the line, Christie pounced.
"There it is. There it is," Christie laid in. "The memorized 25-second speech."
Rubio's response was to repeat the line yet again.
"That's the reason why this campaign is so important. Because I think this notion — I think this is an important point —  we have to understand what we're going through here," he said. "We are not facing a president that doesn't know what he's doing. He knows what he is doing. That's why he's done the things he's done."
A Christie smackdown: Christie was also brutal in going after Rubio's Senate record.
"You have not been involved in a consequential decision where you had to be held accountable. You just simply haven't," Christie said. "And the fact is, when you talk about the Hezbollah Sanctions Act that you list as one of your accomplishments, you weren't even there to vote for it. That's not leadership. That's truancy."
Rubio has come under fire for missing Senate votes before, including in GOP debates. In October, Bush confronted Rubio on the issue, only to have his onetime protege shut him down.
This debate was a different story.
Thinking that he could once more make an opponent's attack backfire, Rubio noted that Christie had originally planned to remain campaigning in New Hampshire during a recent snowstorm in New Jersey.
"You didn't even want to go back," Rubio said. "They had to shake you into going back. You stayed there for 36 hours and then he left and came back to campaign."
But Christie was ready.
"You know what the shame is, Marco? The shame is that you would actually criticize somebody for showing up to work."
A muddled race: If Republican elites were hoping to relieve the congestion in their party's establishment lane, Rubio's weak performance on Saturday night is likely to leave them disappointed.
Even before the evening was over, it wasn't clear Rubio would decisively beat his establishment competitors in the Granite State. An ARG tracking poll released mid-debate showed Rubio tied for second place with Kasich; both men took 17% to Trump's 31%. Should Rubio effectively tie — or even place behind — any of Kasich, Bush or Christie, then the establishment field is likely to remain somewhat crowded at least until the Feb. 20 South Carolina primary or even Super Tuesday on March 1.
That's precisely the kind of nightmare scenario many establishment Republicans hoped Rubio's expectations-busting performance in Iowa would help avoid. But in an election season full of twists and turns, wiley New Hampshire may be poised to upend the race once more.