The Important Message Behind Beyoncé's Dancers' Outfits Capped Off Her Most Important Week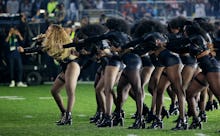 Twenty-four hours after she dropped "Formation" one of the most political music videos in recent memory, Beyoncé took the halftime stage at Super Bowl 50 and gave a riveting, Black Panther-themed performance while her crew of black female performers donned black berets and leather body suits. 
It was a visual homage to the Black Panther Party of Self Defense, the radical black political group that claims its roots in nearby Oakland, California, circa 1966; the Super Bowl is being played less than 50 miles away, in Santa Clara.
Sunday's performance came after Beyoncé broke the internet with a new video composed of black cultural symbols ranging from antebellum southern fashion, hot sauce swag and Black Lives Matter. It left the internet, especially black twitter, in complete shock and showed that despite criticism for her perceived lack of political interest, the world's biggest pop star is woke AF.
You don't just watch a video like "Formation." You absorb it, you study it, you praise it. One day after making such an unapologetically black statement for the world to see, it was only natural that Beyoncé would make a direct link to black activist history. 
The video created an immeasurable amount of anticipation for Beyoncé's halftime performance. That anticipation only grew when she shared rehearsal videos with fans on Instagram before the first half of the game was over. In them, the singer's backup dancers show #blackgirlmagic at its most ordinary, clowning around on a bus and practicing dance steps. It's almost easy to forget that they're world-class entertainers gearing up to give one of the most highly anticipated live performances — on one of the world's biggest stages — in recent memory.
Beyoncé's performance was a moving tribute to black activism, both past and present, and it's the clearest sign yet that she is truly an artist of this political movement.