The Untold Story Behind Why Beyoncé's Dancers Honored a Shooting Victim at the Super Bowl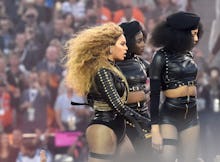 Sure, Beyoncé's performance at Super Bowl 50 at Santa Clara, California's Levi's Stadium was one for the history books, but her dancers made some noise of their own, and not nearly as many people noticed. 
At various stages before and after their performance alongside Coldplay and Bruno Mars, the dancers delivered big doses of political symbolism, posing with black berets, afros and raised fists in an homage to the Black Panther Party for Self-Defense, the radical political group that formed in nearby Oakland exactly 50 years ago. 
The dancers' actions didn't just honor the past. Shortly after the performance, a small group of them were handed a handwritten sign that read "Justice 4 Mario Woods." Mario Woods was a 26-year-old mentally ill black man whose death at the hands of San Francisco police was caught on camera and enraged the city's black residents — but it is a story that hasn't caught as much national attention as other recent police killings. 
The dancers were handed the sign by two black organizers, Ronnisha Johnson and Rheema Calloway, organizers with Black Lives Matter and the Last 3 Percent, a group named after the size of San Francisco's remaining black residents that's working to bring attention to gentrification. 
"A lot of people came to San Francisco to celebrate the Super Bowl without knowing about the plight that black and brown folks are facing," Johnson told Mic. "We know San Francisco is capitalizing off of the momentum of Super Bowl at the expense of the poor black communities that reside here."
Calloway and Johnson had tickets to the Super Bowl's halftime performance, and they also had a mission: get their message about Mario Woods' death into the hands of as many black entertainers there as possible. They'd already approached Alicia Keys and NFL star running back Adrian Peterson and gotten both to issue supportive statements about why black lives matter, but the Super Bowl halftime show represented a whole different opportunity altogether: a chance to reach hundreds of millions of viewers and some of the planet's most popular entertainers.
After the show, which wound up being the second highest rated Super Bowl halftime show ever, Beyoncé's dancers were walking off of the field with their fists raised in one last nod to the Black Panthers. That's when Calloway and Johnson made their move, walking up to a group of them and giving what amounted to an elevator pitch about Woods' death. "The dancers were really excited to take pictures," Calloway told Mic. "They didn't second guess taking a stand in solidarity with us for Mario Woods and it seemed they had already heard the story, but we didn't have enough time to react."
Instead, they agreed to a photo and video that rocketed across the internet:
Of course, there are those who have second guessed the performance. Former New York City Mayor Rudy Guiliani was particularly upset. "I think it was outrageous," Giuliani said on Fox News Monday, according to the New York Daily News. "The halftime show I thought was ridiculous anyway. I don't know what the heck it was. A bunch of people bouncing around and all strange things. It was terrible."
It's precisely that type of pushback that's reinforced for organizers why it's important to gain public support from black celebrities. "[This] shows how much influence that black celebrities have and why it's important for them to stand up," said Johnson. "The pushback is a clear example of realities we face when we stand up for black existence."