The Improbable Story of How Kendrick Lamar's "Alright" Became a Protest Anthem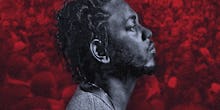 It was a warm Midwestern day during the last week of July and hundreds of activists were gathered at Cleveland State University. They had all just wrapped up a conference called the Movement for Black Lives, the first formal convening of Black Lives Matter's official and unofficial network of activists. After three days of talking about the the police violence that had roiled black communities, they were saying their goodbyes to one another and boarding buses back to their respective cities. Despite taking place in Cleveland, Ohio, a city recently in the national spotlight for the deadly police shooting of 12-year-old Tamir Rice, the week had gone by without any direct confrontations with police. 
Until they spotted a 14-year-old black boy being questioned by police for allegedly carrying an open container of alcohol onto a bus.
"We saw this encounter happening, saw this young man being arrested and so a number of folks went over to talk to the police to see what was happening," Treva Lindsey, an assistant professor at Ohio State University who witnessed the altercation, told Mic. "The situation escalated so quickly."
What happened over the next hour made headlines across the globe. According to several witnesses who spoke to Mic and news accounts from the time, scores of conference attendees gathered to confront the police about the boy's arrest. The police responded by pepper spraying the crowd, causing a scene that drew even more protesters to the scene. Amid the chaos, someone asked the boy for his mother's phone number and called her. Soon, she was there talking to police, and the boy was released into her custody. 
Overjoyed, the crowd, which now numbered close to 200 people, began chanting the refrain from Kendrick Lamar's Grammy-nominated song "Alright."
"We gon' be alright!"
It was a moment of revelry that broke the tension of the day, but it was also confounding. Easily his generation's most celebrated rapper, Lamar has been openly criticized by activists. How did a movement with such a contentious relationship to an artist come to embrace his work as its theme song?
Capturing the moment: To the activists attending the Movement for Black Lives conference, protests were nothing new. They had happened in Baltimore, Ferguson and New York City as protesters confronted law enforcement to demand accountability for several high profile deadly shootings of black people. But while those demonstrations were loud, constant and sometimes violent, they didn't necessarily have a soundtrack — until now.
"In that particular moment, it felt like we [knew] we're losing a lot of battles, we're losing a lot in this movement because of the perniciousness of anti-black state violence, but in that moment, we felt it," Lindsey said.
Lamar's third full-length album, To Pimp a Butterfly, didn't so much announce his arrival as his generation's fiercest political artist as it did cement it. The album has earned Grammy nominations for best rap album and album of the year based on its strength as a well-executed concept record that grapples plainly with one artist's search for political authenticity. But "Alright" is a song that has also stood on its own. It's both a call to action and a reassurance, one that's earned four Grammy nominations of its own: song of the year, best rap performance, best music video and best rap song.
But perhaps more importantly, it's helped bring hip-hop back to its political roots. And in the pantheon of contemporary black music of struggle, it's helped animate some of the day's most stringent activism. Like Mahalia Jackson singing "How I Got Over" before the 1963 March on Washington or Marvin Gaye's 1971 album What's Going On lamenting America's war in Vietnam or Public Enemy's 1990 hit Fear of Black Planet animating hip-hop's early embrace of black nationalism after the Reagan era. To Pimp a Butterfly has boldly captured black America's political and personal struggles and joined the legacy of music playing a role in our liberation struggles. 
But Lamar's place in hip-hop's political history wasn't always ordained. In fact, his relationship to the Black Lives Matter movement was so conflicted that some didn't think the song would catch on at all. 
"I didn't think ["Alright"] would be picked up by the movement because of Kendrick's own complicated relationship with Black Lives Matter," Lindsey said. "He's made comments about respecting ourselves and thinking through the movement that don't necessarily mirror the kind of political impetus of the movement."
The tone changes: Throughout 2013, Good Kid M.A.A.D. City, Lamar's second full-length album, earned widespread praise for narrating the real human costs of disastrous public policy. The album "shows us how gun violence extends out beyond the actual guns," wrote cultural critic Ta-Nehisi Coates in a New York Times op-ed. 
The album was a critical success, but is most remembered for what it's not: a Grammy winner. In 2014, when the album was nominated, but did not win best rap album, hip-hop fans complained that the album had been snubbed in favor of Macklemore and Ryan Lewis' more pop-friendly hit The Heist, an album that even Macklemore acknowledged was widely embraced by white audiences. 
That controversy set in motion intense anticipation for To Pimp a Butterfly. In September 2014, Lamar released the album's first single, "i", an uptempo track that leans heavily on a sample of The Isley Brothers' 1973 hit single "That Lady." In it, Lamar, a rapper who had boldly bragged about being the best rapper in the game on his much-heralded freestyle verse "Control" a year earlier, hinted at some of his deepest insecurities. "Everybody lack confidence," he rapped. "How many times our potential was anonymous?"
But Lamar seemed to have struck the wrong tone. The song was a positive melody on the otherwise dark soundtrack of black life in America. The previous month, Mike Brown, an unarmed 18-year-old black man, had been gunned down in Ferguson, Missouri, by a white police officer named Darren Wilson. Brown's death, and the images of his body laying unattended for hours on the street where he died, galvanized black people who were already outraged over the seeming disposability of black life in cities and suburbs across the country. Hundreds of protesters flocked to Ferguson, where they clashed with police officers and were arrested by the dozens, and officials declared a state of emergency. 
Then a Missouri grand jury decided not to bring charges against Wilson for Brown's killing. Less than a month later, a New York grand jury came to the same decision in the case of Eric Garner, a 43-year-old black man whose death at the hands of police was caught on video and had become another one of the movement's rallying cries. 
When asked about Ferguson in an interview with Billboard, Lamar displayed a black conservatism that rattled the country's growing ranks of black activists.
"I wish somebody would look in our neighborhood knowing that it's already a situation, mentally, where it's fucked up," he said. "What happened to [Michael Brown] should've never happened. Never. But when we don't have respect for ourselves, how do we expect them to respect us? It starts from within. Don't start with just a rally, don't start from looting — it starts from within," Lamar said.
The criticism that followed was swift. Outspoken rapper Azealia Banks was perhaps the most public critic when she fired off a series of tweets:
In February 2015, Lamar threw fans for another loop when he released the album's second single "The Blacker the Berry." The song's title referenced the refrain, "The blacker the berry, the sweeter the juice," a saying that's long been used by black folks to reinforce the beauty of darker skin. Over a menacing beat, Lamar raps directly to white America: "My hair is nappy/ My dick is big/ My nose is round and wide/ You hate me don't you?/ You hate my people/ Your plan is to terminate my culture." He then goes through a litany of black stereotypes before ending with a line that seemed aimed directly at black activists: "Why did I weep when Trayvon Martin was in the street?/ When gangbanging make me kill a nigga blacker than me?/ Hypocrite!"
The song was released almost exactly three years after Martin, an unarmed 17-year-old black boy, was killed by George Zimmerman, a mixed race neighborhood watchman who was later acquitted of any wrongdoing. His death also ignited widespread protests, and Zimmerman's acquittal only flamed that fire. 
With "The Blacker the Berry," an age-old controversy erupted: Should black America be more concerned with so-called black-on-black crime instead of police brutality? For many, that was a question that missed the point entirely:
Despite the criticism, anticipation for the album only grew. Lamar wasn't shy about underscoring its importance, telling Rolling Stone in an interview that was published days before the album came out that it "will be taught in college courses someday."
Then, on March 15, 2015, Top Dawg Entertainment and Aftermath Entertainment released To Pimp a Butterfly. Everything changed.
The evolution of an artist: Between March and June 2015, Lamar reinserted himself as the most important figure in contemporary hip-hop. That was largely due to the strength of the album, a blend of jazz, funk and spoken word from a diverse crop of producers including Pharrell Williams, Thundercat, Flying Lotus, Rhapsody and George Clinton. 
"As an artist, he's kind of coming into his own," Davey D, a hip-hop historian, DJ, and journalist, told Mic. "His song writing is a little bit sharper, and he's made some noise."
Much of that noise happened on stage. In June, the rapper performed "Alright" at the BET Awards, where he won best male hip-hop artist, atop a battered police car with the ripped up American flag just off to his right. 
Taken as a whole, To Pimp a Butterfly is an honest account of one man's evolving political and personal identity. It's a 27-year-old telling the world that he's not perfect, but he's trying. "There's something spiritual that's connecting with folks, whether they realize it or not," Davey D said. "You're talking about a guy who's young, who has earnestly expressed a type of vulnerability that is not always apparent with a lot of artists, especially in hip-hop." 
"Alright" is the song that tells people that evolution is OK, if not natural and necessary.
That was certainly a message that people who had gathered in Cleveland in July 2015 needed to hear. Days before the confrontation with police, many of them sat in an auditorium at Cleveland State University to kick off the convening. It was the end of the opening plenary and music was playing to celebrate the beginning of what many hoped would be something special. Jidenna's "Classic Man" played. Then "Alright" began blasting through the auditorium's speakers. 
"The whole damn place went nuts," said Davey D, who attended the convening in Cleveland. "You were moved. There was no way you could just sit back and not feel the effect of that song. Everybody was singing in unison. It was like being at church."
Lindsey also remembered that moment. "There was a kind of joy we were trying to evoke as well in the space of the opening ceremony. Yes, we're going to be here talking about state violence against black bodies, but we're also talking about these black bodies thriving and living in a world, and so we have to believe that we are going to be OK."
In many ways, the song's journey to becoming a fiercely black protest anthem mirrors the movement that's embraced it. That journey was summed up by Lamar himself in the same interview with Rolling Stone: "You take a black kid out of Compton and put him in the limelight, and you find answers about yourself you never knew you were searching for," he said. "There's some stuff in there, man. It's a roller coaster. It builds."