Akai Gurley's Death Forged an Unlikely Coalition That Called for Justice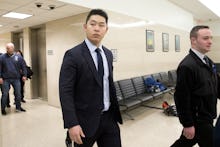 After three days of deliberations, a jury of seven men and five women has found New York City police officer Peter Liang guilty of second degree manslaughter for the 2014 shooting of Akai Gurley, an unarmed black man who was fatally wounded while walking up a stairwell in a Brooklyn housing project. Liang faces up to 15 years in prison. 
"We have to send a message not only to the system, but to these police officers, their commanders, to the mayor: no more," Hortencia Petersen, Gurley's aunt, told Mic at the Kings County Supreme Court in downtown Brooklyn before the verdict was announced. "Enough is enough. Stop with the excuses. Hold these officers accountable because, at the end of the day, they have a job, they're collecting a paycheck, they're seeing their loved ones. Akai Gurley's not."
Liang faced five counts in the November 2014 shooting: manslaughter, assault, reckless endangerment, criminally negligent homicide and official misconduct. The details of the case were harrowing, but the community that came together around his death was ready to battle the courts.
A broad, multiracial swath of residents and organizers, including members of Gurley's family, began working together to demand institutional change from the New York Police Department. Those groups included the volunteer-led Justice for Akai Gurley & Family Committee and CAAAV Organizing Asian Communities, a 30-year-old community organizing group that's based on New York's Lower East Side.
Meejin Richart, an organizer with CAAAV, which has been with Gurley's family and its supporters throughout the trial, told Mic why they got involved. "We felt like it was really important to have an organized Asian voice speaking out in support of Akai Gurley's family and the folks who were organizing around his case to demand justice," she told Mic. "Just because it's an Asian cop doesn't mean that doesn't mean that he shouldn't be indicted. In fact, all cops need to be held accountable when they brutalize and kill communities that they're paid to protect."
The case has also brought to light specific tensions between Chinese-American and African-American communities. One week after Liang was indicted, more than 120,000 people, most of whom were Chinese, signed a petition directed at the White House to get the Brooklyn district attorney's office to drop Liang's charges. The petition read, in part: "the circumstances surrounding Mr. Gurley's death lead to a manslaughter indictment this week, whereas police officers in the Michael Brown and Eric Garner case were never charged. Criminal charges appeared more likely in the later two cases, but these two non-Asian police officers were never charged."
That sentiment drew criticism from some within the community. Writing for Talking Points Memo, Esther Wang wrote that, "We can't call for justice when an Asian person is harassed, targeted or killed by the police and then act to protect an Asian police officer when they're the ones who've killed."
Liang's charges came after he shot Gurley, 28, in a darkened stairwell while patrolling a Brooklyn housing project. Liang was conducting what is known as a vertical patrol of the Pink Houses in East New York when he entered the dark stairwell with his gun drawn, heard a sound from below, and said he accidentally fired his weapon. The bullet ricocheted off a wall and struck Gurley, who was walking up the stairs with a friend, in the chest. The prosecution argued that Liang was reckless.
The most controversial parts of the case had to do with what Liang did and didn't do in the moments after he realized he had shot Gurley. Witnesses, including his former partner, said that he did not offer to help as Gurley lay dying. Liang's defense countered that he was in shock, and did eventually radio for help.
Gurley was one of several black men whose deaths at the hands of police outraged city residents. "The only reason this case was brought to trial is because of what's been happening around the country," Lumumba Bandele, a senior community organizer with the NAACP Legal Defense Fund who attended the trial, told Mic. 
Bandele, who has been active in New York City organizing since the 1980s, said that the trial has illuminated what many organizers see as deficiencies endemic to the department. "The training officers get is absolutely insufficient," Bandele said, referring to department procedure of walking into empty stairwells with their weapons drawn. "If [officers] are trained to have their weapons drawn, that's an institutional problem [because] we're talking preparing their officers to go into a place of residence ready for an ambush."
For young New Yorkers, the case has become a particular rallying cry. 
"I think it's a real issue because on the idea that it could be any one of us at any moment in time," Kerbie Joseph, a representative with Justice for Akai Gurley & Family Committee, told Mic. "Even if a young person or an elder is not killed by a police officer, they're harassed by one. Or their communities are occupied. Or the police officers are in their schools. So it's this constant state of being surveyed [sic] and being oppressed. It connects very clearly that there is something wrong. And the only way that we could make a difference is to fight it. It's a very clear line of 'if we don't do this, then we will not make it.'"
"It's a very clear line of 'if we don't do this, then we will not make it,'" Kerbie Joseph
With Thursday's ruling, New York City closes yet another chapter in its troubled history between black communities and the police force that's sworn to serve and protect them. "Nothing can bring Akai back, but it's just the matter of getting justice, not only for him, but for everyone else," Petersen said.