Is Drake Single? Rapper Has Been Linked to Rihanna, Serena Williams and Nicki Minaj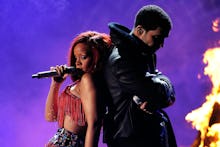 Michael Caulfield/Getty Images
As one of the hottest names in the music industry, OVO rapper Drake often finds himself in the middle of rumors regarding his relationship status. The most recent of which involved Anti singer Rihanna. According to the gossip site Celeb Dirty Laundry, the rapper was putting in work to get the attention of Rihanna during their time spent collaborating on the hit single "Work." The two artists have a complex relationship, having dated on and off in the past. 
However, Rihanna quashed any rumors that she was in a relationship with the Canadian artist on The Ellen Show on Thursday. "I'm single right now and it's not that I'm like, 'Oh, pro-single, yes, I hate men,'" the 27-year old artist said. "I just think that I have just so much on my plate that I can't even find the time to entertain a steady relationship or anything serious." 
Read more:
Back in 2010, Drake opened up to the New York Times about his relationship with the Barbadian singer. 
"I was a pawn," Drake told theTimes. "You know what she was doing to me? She was doing exactly what I've done to so many women throughout my life, which is show them quality time, then disappear. I was like, wow, this feels terrible." Most recently, the duo was spotted having dinner together weeks after shooting their "Work" single, according to Inquisitr.
Since then, questions of Drake's relationship status seem to pop up every now and then. He was recently rumored to have been dating tennis player Serena Williams, which sparked further rumors that Drake has gotten Williams pregnant. The pregnancy rumor was obviously untrue. 
"They are still a thing, but he is also not committed to only her and enjoys the variety life brings in the women department. He will always be a player first," an anonymous source told Hollywood Life in October. "Drake can be with a different woman every day if he wanted to be, and he usually is; he is not in a one-on-one relationship with Serena at all."
It is unclear whether Drake and Williams are still dating, or even were serious in the first place. Another source, a representative for Williams, told Entertainment Tonight in October that the two "are simply longtime friends."
As for The Pinkprint artist Nicki Minaj, she appears to be in a committed relationship with rapper Meek Mill, ending any rumors that she might be dating the OVO rapper. But rumors swirled back in 2010, when Drake rapped about Minaj on the track "Miss Me," featuring Lil Wayne.
"I love Nicki Minaj/ I told her I'd admit it/ I hope one day we get married just to say we f*cking did it," Drake rapped. "And girl I'm fucking serious/ I'm with it if you with it/ 'Cause your verses turn me on and your pants are mighty fitted." 
However, their relationship never seemed to go any further than that. "Obviously, Drake and I, we've played around so much with the whole marriage thing and stuff like that, so people have come to be kind of intrigued about us," the Trinidad-born rapper told MTV News after shooting the video for "Moment 4 Life," according to Rap-Up. "So I was like, there has to be some sort of romantic storyline. It's Drake and me."
So is Drake single heading into 2016? The evidence seems to point to yes.