Loretta Lynch Just Explained Why the Department of Justice Is Suing Ferguson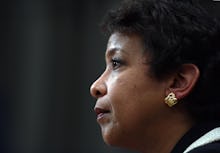 The contentious relationship between the city of Ferguson, Missouri, and the Department of Justice just entered a new phase. On Wednesday, Attorney General Loretta Lynch announced that the Justice Department is suing the city after its city council voted to change a proposed settlement it agreed to after a 2014 federal investigation into systemic abuses by city officials aimed at black residents. 
"The residents of Ferguson have suffered the deprivation of their Constitutional rights, the rights guaranteed to all Americans, for decades. They have waited decades for justice," Lynch said on Wednesday. "They should not be forced to wait any longer."
Activists in the city have applauded the attorney general's swift action, like Brittany Packnett, a member of the President's Task Force on 21st Century Policing:
Kayla Reed is an organizer with the Organization for Black Struggle:
After the 2014 shooting death of unarmed 18-year-old black man Michael Brown led to days of civil unrest in the St. Louis suburb, the DOJ began investigating systemic abuses of black residents. When finally released to the public, the results were scathing. Black residents made up 67% of the city's residents but 94% of its police force was white. The city routinely issued fines to black residents for traffic stops and missed civil court appearances in order to fill its coffers. And city government employees joked about black women getting abortions as a way to stem crime. 
Under the glare of the national spotlight, Ferguson city officials at first welcomed the investigation and cited its findings as reason to change their practices. "We've welcomed anybody to take a look at our actions in the past several years," Ferguson Mayor James Knowles told NBC News. "If the Department of Justice feels that they can shed light on this, we hope that we will have an opportunity to tell our side of the story."
Change seemed imminent. In 2015, the city elected two black city council members and negotiated a settlement with the Department of Justice that included reforms to police and court systems. 
But Tuesday, that same city council concluded that all of the settlement's provisions would cost the city $3.7 million to implement over its first year, according to the Associated Press. In particular, the city council voted against raising police officer salaries and mandating that any agency that employed city workers to abide by the rules of the settlement, according to BuzzFeed News. 
"The Ferguson City Council has attempted to unilaterally amend the negotiated agreement," Vanita Gupta, head of the Civil Rights Division for the Justice Department, said in a statement Wednesday night. "Their vote to do so creates an unnecessary delay in the essential work to bring constitutional policing to the city, and marks an unfortunate outcome for concerned community members and Ferguson police officers."
Correction: Feb. 11, 2016
Correction: Feb. 12, 2016