7 Times Women in Hip-Hop Proved Kanye Wrong About the Word 'Bitch'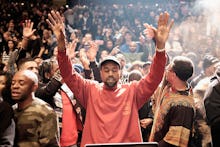 Is it okay to use the word "bitch" in hip-hop?
That was the question on everyone's mind Friday while Kanye West was tweeting in peak Kanye form. On Thursday, he debuted his new album The Life of Pablo during the premiere of his Yeezy Season 3 fashion collection, a collaboration with Adidas, at Madison Square Garden. 
The song that's got everyone talking is a track called "Famous," in which West raps, "I feel like me and Taylor might still have sex / Why? I made that bitch famous."
Swift reportedly isn't happy about the line and her representatives said she "cautioned him about releasing a song with such a strong misogynistic message."
West took to Twitter to defend himself:
While plenty of women in hip-hop have reclaimed the word "bitch" (see: Nicki Minaj's "Bad Bitch"), it's still deeply misogynistic and derogatory when uttered from the mouth of a man with a long history of slut-shaming women. In fact, far from being an endearing term in hip-hop, the culture's leading women have long spoken out against men's use of the word.
Queen Latifah released "U.N.I.T.Y" in 1993 and it became a feminist anthem.
The song was so powerful that it won the 1995 Grammy for "Best Rap Solo Performance," and beat out other now-classics like Coolio's "Fantastic Voyage," Snoop Dogg's "Gin and Juice," Craig Mack's "Flava in Ya Ear," and Warren G's "This DJ." Twenty two years later, the song still offers the perfect rejoinder to West's claim that "bitch" is now an acceptable word for a man to call a woman in hip-hop:
Instinct leads me to another flow
And then there's the hook:
U.N.I.T.Y., U.N.I.T.Y. that's a unity (You gotta let him know)
Looking back on her rap career in a 2015 interview on HuffPost Live, Queen Latifah reiterated the importance of a record like "U.N.I.T.Y" at that particular moment. "I chose to kind of take the route of uplifting women by trying to make some records that had some positive thoughts in it," she said. "There are ways to make records that appeal to the masses but still have a message that leaves something with you."
Latifah's not alone. Plenty of other women in hip-hop have spoken out against being called a "bitch," and made clear when it is or isn't okay to say. For example: 
That time Nicki Minaj said in an interview: "When I am assertive, I"m a bitch. When a man is assertive, he's a boss."
Or when Angel Haze's mixtape "Classick" included the track "Bad Bitch" with the lyrics, "Bitch bad/woman good/lady better/they misunderstood."
And never forget when in 1995, legendary hip-hop trio Salt-N-Peppa released the track "Ain't Nothin' But a She Thang" in response to Dr. Dre's 1992 hit "Aint' Nothin' But a G Thang." In it, they rapped, "When I'm aggressive, then I'm a bitch/When I got attitude, you call me a witch."
Or when Joan Morgan published a book on hip-hop feminism called "When Chickenheads Come Home to Roost." "The abuse is undeniable," Morgan wrote in a chapter titled "From Fly-girls to Bitches and Hoes." "Dre, Short, Snoop, Scarface —I give them all their due, but the new school's increasing use of violence, straight-up selfish individualism, and woman-hating...masks even from my own eyes the essence of what I fell in love with."
And when Jean Grae threatens to do bodily harm to anyone who calls her a bitch.
That time Rocky Rivera called out Too $hort for still calling women bitches on "Wake Up."
The sad part about all of this is that there is some truth to Kanye's tweet. The word "bitch" has been around in hip-hop for decades. But for just as long, women in the culture have either tried to redefine it or resist it.