Mario Woods, Slain Man Beyoncé's Dancers Honored at Super Bowl, Had 21 Gunshot Wounds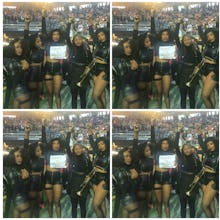 Less than a week after Beyoncé's dancers helped bring his story to millions of viewers at the Super Bowl halftime show, grisly new details have come out about the death of Mario Woods, the 26-year-old black man who was shot and killed by San Francisco police officers. 
On Thursday, the San Francisco medical examiner released Woods' autopsy report, which showed that he had 21 gunshot wounds, including several in the back. "Based on a review of the autopsy report alone, there are 21 total gunshot wounds to the body and 11 of these are perforating, meaning they went through the body," Judy Melinek, a forensic pathologist not affiliated with the case, told the SFGate. "The 21 gunshot wounds could have been caused by a maximum of 21 or a minimum of 10 projectiles."
Woods — who was suspected of committing a nearby stabbing and whose "family has said that he suffered from psychiatric issues," according to the Gate — was shot during an altercation with several police officers. The shooting was caught on camera by several bystanders. 
(Editor's note: This video contains disturbing footage. View with discretion.)
John Burris, a civil rights attorney who has sued the city on behalf of Woods' family, said that the report "confirms my view that the shooting was excessive. Many and most were in the back," according to the Gate. 
Police say Woods was shot after he refused to drop a knife and lunged at officers. Woods' family had long told the public that the young man was mentally ill. At the time of his death, Woods had antidepressants in his system, along with marijuana and methamphetamine.
Woods' family has called for a federal investigation into his death.