With Two Performances, Beyoncé and Kendrick Lamar Changed Black Storytelling Forever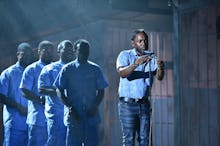 One day after debuting a music video that paid homage to baby hair, big noses and hot sauce, America's biggest pop star walked onto the Super Bowl's halftime show stage with a group of black women wearing black berets in tribute to a radical political group that former FBI director J. Edgar Hoover once called "the greatest threat to the internal security of the country." 
Just over a week later, one of the country's biggest rap stars walked out on stage at the Grammys wearing chains and prison blues before breaking out into a choreographed African dance routine. Beyoncé and Kendrick Lamar have changed what's possible for mainstream black artists, and American music will probably never be the same.
The timing makes sense. It's Black History Month. We're in the final months of Barack Obama's presidency. We're in the middle of a protest movement centered on black lives. It's an election year. 
What's clear is that black artists are no longer content to keep their political selves hidden. What's also clear is that there's long been an appetite for this brand of unapologetically black art, and we've finally entered a political moment where black artists don't necessarily have to risk their careers to create and perform it.
At the 58th Annual Grammy Awards, Lamar gave one of the night's most memorable performances. He also walked away with five Grammys in total, including wins for best rap album and best rap performance. Though he missed out on one of the night's biggest awards — best album — he did something far more important by bringing his brand of politically charged live performance to the music industry's most important celebration. It's something that will stay with fans:
Lamar and Beyoncé gave us two prime examples of what black storytelling could look like on big stages. Beyoncé can sing about her mama's Creole heritage, having hot sauce in her bag and taking bae to Red Lobster. Lamar can make an album that, at its most basic level, is about taxes and not knowing what to do with the immense wealth that comes from success. 
There's been plenty of furor recently over diversity at Hollywood's big awards shows, such as #OscarsSoWhite putting the Academy of Motion Picture Arts and Sciences on the defensive to the point that it has promised to change. 
But the push for diversity isn't just about adding more color to Hollywood's historically white mix. It's about allowing artists of color the range of complex human emotion and experience afforded to their white counterparts. And in two historic performances, Lamar and Beyoncé did just that.