American Airlines Is Suing Gogo Over Terrible Wi-Fi on Behalf of All of Humanity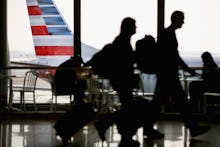 When it comes to buying sub-par internet on a flight, there is one name that comes to mind the most: Gogo Inflight Internet — the Comcast of the sky. Gogo's wireless service is so expensive and draconian, it's been giving American Airlines a bad reputation. And now American says it's time for Gogo to get lost.
American Airlines filed a lawsuit against Gogo LLC for keeping them in a contract to provide slow, low-quality Wi-Fi. American claims in its suit that having a contract with Gogo encourages passengers to consider other airlines — the suit specifically names JetBlue, United, Virgin and Southwest — just to have access to better Wi-Fi.
"After carefully evaluating the new technology and services in the marketplace, American has decided to exercise its rights under the agreement and recently notified Gogo that ViaSat offers an in-flight connectivity system that materially improves on Gogo's air-to-ground system," American Airlines said in a lawsuit that reads like a sadistic litany of Gogo's shortcomings.
American Airlines points out that studies show up to 66% of passengers consider in-flight Wi-Fi a deciding factor when choosing with airline to fly with. And while technology races ahead, AA is stuck offering its passengers Gogo.
Gogo is fighting to hold onto its contact. Even if its way of beaming Wi-Fi from the ground to the air can't match up to competitors like ViaSat (AA's new choice) and Global Eagle, Gogo's got a new satellite service called 2Ku on the way. But American just wants out.
After news of the lawsuit broke, Gogo's stock price plummeted 27%, while American Airlines' stock gently ascended 2%.