Here Are the First Photos of Richard Branson's SpaceShipTwo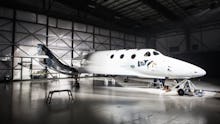 Richard Branson's private spaceflight company Virgin Galactic just revealed SpaceShipTwo, its brand-new rocket-powered plane, today in California. It looks stunning.
SpaceShipTwo is designed to be lifted by a carrier airplane to about 50,000 feet, where it will jettison and blast off to the edge of outer space. Future paying customers will get to experience a few minutes of weightlessness and take in a view of the Earth that only astronauts have seen. Almost 700 people have already pre-bought one of the $250,000 tickets.
Even legendary physicist Stephen Hawking is hoping for a chance to ride in SpaceShipTwo:
This is actually the company's second SpaceShipTwo model. The first was lost in October 2014 when a test flight went horribly wrong and the ship broke up over the Mojave desert. Co-pilot Michael Alsbury was killed in the accident. Pilot Peter Siebold was injured but survived.
An investigation by the National Transportation Safety Board determined the plane broke up when Alsbury prematurely unlocked a wing-pivot system. The NTSB also said that SpaceShipTwo's safety systems and training procedures had some flaws.
Virgin Galactic said in a press release that it has addressed all of those problems ahead of the new SpaceShipTwo.
Before the accident in 2014, Virgin Galactic planned to start flying customers in 2015. Now the company has taken a more conservative and non-specific outlook, saying, "When we are confident we can safely carry our customers to space, we will start doing so."