Reaction to Kesha's Rape Allegations Prove Sexism Is Alive in Music — Look at Chris Brown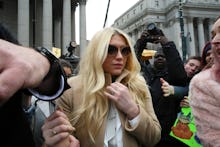 Taylor Swift isn't the only person in Kesha's corner.
On Friday — after a New York judge ruled against letting the embattled recording artist out of her contract with producer Dr. Luke, a man she's accused of raping and abusing her over the course of a decade — many came to her defense. Shortly after the ruling, fans gathered outside of the New York City courthouse and took to Twitter demanding the court #FreeKesha.
Kesha's story has galvanized some of the music industry and its fans, who say that the case is a clear example of its sexist double standards. One example that many have used to illustrate this is Chris Brown, the R&B superstar who in 2009 brutally beat then-girlfriend Rihanna. Brown's legal troubles didn't slow his career down as much as it probably should have. In fact, since pleading guilty to felony assault then, Brown has released six albums. As Rob Wile pointed out at Business Insider in 2013, despite this very public assault, Brown is still a money-making machine for record labels.
What's become clear to fans is this: Women who are victims of violence pay more than the men who allegedly perpetrate it. Here's how they sounded off on Twitter:
In Kesha's case, the price seems extraordinarily high. In court documents, her attorney, Mark Geragos, wrote that without an injunction against Dr. Luke, the singer's career is functionally over.
"Until this court rules on the declaratory judgment claim, Kesha is at an impasse," read a memorandum provided to the court. "She cannot work with music producers, publishers or record labels to release new music. With no new music to perform, Kesha cannot tour. Off the radio and stage and out of the spotlight, Kesha cannot sell merchandise, receive sponsorships or get media attention. Her brand value has fallen, and unless the court issues this injunction, Kesha will suffer irreparable harm, plummeting her career past the point of no return."
The specific details of Kesha's allegations against Dr. Luke are difficult to stomach. "Ms. [Kesha] Sebert took the pills and woke up the following afternoon, naked in Dr. Luke's bed, sore and sick, with no memory of how she got there," part of the lawsuit, filed in 2014, reads. "Ms. Sebert immediately called her mother and made a 'fresh complaint,' telling her that she was naked in Dr. Luke's hotel room, she did not know where the clothes were, that Dr. Luke had raped her and that she needed to go to the emergency room."
For Kesha, Friday's court ruling will sound louder than any hit single ever could.