Nina Simone Singing "To Be Young, Gifted and Black" on 'Sesame Street' is Everything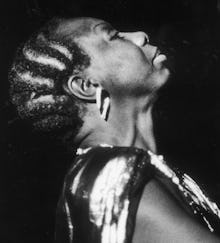 Nina Simone would have turned 83 on Sunday.
Even though the iconic jazz singer died in 2003, the past year has been an important one for how she is perceived in the public's imagination. That's due largely to the release of the Netflix documentary What Happened, Miss Simone?, in which director Liz Garbus paints a heartbreaking picture of Simone as a deeply complex figure who was punished for her political activism.
Now, in an age when major black stars like Beyoncé and Kendrick Lamar are galvanizing audiences with unapologetically black and political music, Simone's activism is seen as trailblazing, not troubling. And there's perhaps no better example of that activism than this 1972 appearance on Sesame Street, in which she sits on the steps of the show's iconic brownstone with a group of black children and belts out the uplift anthem "To Be Young, Gifted and Black."
Here's the entire performance:
The song itself was written by Simone and composer Weldon Irvine in 1969 in memory of Simone's good friend Lorraine Hansberry, who wrote the African-American classic A Raisin in the Sun. The song's title came from a play that had been collected from Hansberry's unpublished writings, according to Simone's memoir I Put a Spell On You and a more recent account in the New Yorker. Simone reportedly wrote the song in hopes that it would "make black children all over the world feel good about themselves forever," according to the New Yorker.