Fairfield University Threw a "Ghetto-Themed" Party, and It Was Just as Bad as It Sounds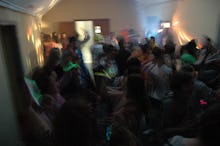 What, beer pong doesn't cut it anymore?
On Saturday, a group of students at Fairfield University in Connecticut threw a "ghetto-themed" off-campus beach party where, according to Fox 5, partygoers came dressed in baggy clothes, gold chains and fake baby bumps.
Fox reported that the Jesuit college's administration is investigating the incident, and that the university president Rev. Jeffrey von Arx condemned the event in an email, saying it "perpetuated racial stereotypes that have no place in our community and only serve to offend and devalue people." 
Read more: 7 "Insane" Demands American College Students Have Fought For and Won
At least one angry Fairfield student took to Twitter, posting images she said were from the party.
Though some accounts of the party mentioned students in blackface, CT News Junkie shared a statement from Fairfield spokesman Teddy DeRosa, which noted that the university hasn't received any confirmation of "brown makeup" or "blackface" at the party. 
According to the Connecticut Post, the party was documented on Instagram, Twitter and Snapchat. When word got around about the themed bash, many students expressed disheartenment that something so insensitive would happen on their campus. 
"It is truly disappointing to see my fellow students ... behave in such a manner that mocks [another] race," sophomore Anmol Tabassum told the Post. 
Still, others maintained it was no big deal. According to the Post, one student posted in the Fairfield University Class of 2017 Facebook group, mocking the outrage. "I wore a hotdog costume to this party and now feel that my actions have caused emotional harm to all of the hot dog community."
The student then hashtagged his post, of all things, #HotDogsMatter.
Feb. 26, 12 p.m. Eastern: This story has been updated.