Want a Gluten-Free Diet? Here Are 5 Substitutes to Use Instead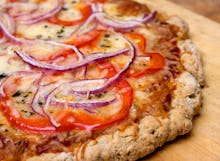 LARRY CROWE/AP
Gluten-free is the king of fad diets. One in three Americans has eliminated the protein that's naturally found in wheat, rye and barley from their diet, according to the New York Times. Many have done so because of a gluten intolerance, like the incurable celiac disease, which can cause nausea and bone loss. 
Others do it in pursuit of a healthier lifestyle and weight loss, according to the New York Daily News. To this, many nutritionists, scientists and doctors claim that avoiding gluten with no real medical condition can actually leave people nutritionally deficient. Most commonly, gluten is found in the grains that make up pasta, cereals, energy bars, baked goods and bread. Besides, our ancestors have been eating it for thousands of years already, the Times reported. But then again, food production and processes have changed over the years, according to the New Yorker.
Read more: Here's Why Atkins, Paleo and Other Low-Carb Diets Don't Guarantee Weight Loss
But going and staying gluten-free is becoming easier — and capitalized on, now that it's an industry worth more than $6.3 billion, according to the Times. 
If you decide to delete gluten from your diet, here are some substitutes that are naturally gluten-free and easy to find in your local grocery store:
1. Tapioca
While not an actual grain, tapioca is a starch ground from the cassava plant. Tapioca has the same process as gluten grains so cross-contamination is possible, and it's important to pay attention to labeling. Tapioca flour is good at keeping baked goods, such as pizza crust, moist, but it can also be boiled up into pearls and turned into pudding. 
2. Quinoa
Quinoa has taken the health world by storm — but for good reason. As a seed, not a plant, quinoa is a gluten-free complete protein that also has the ability to grow in harsh conditions, the Huffington Post reported. A 2014 study found that quinoa can actually improve the health of celiac patients. There are also a multitude of quinoa products available on the market, such as crackers, noodles, polenta and flour.
3. Rice
All types of plain rice are a healthy gluten-free option — but things get tricky when it comes to flavored rice mixes, since they often use wheat-based enhancers or thickeners. Japanese restaurants can also use grain-based vinegars when preparing their sushi. Rice can be used in a variety of ways, but now rice pasta is also hitting the market. 
4. Chia 
Tiny little chia seeds, which derive from a flowering plant and are high in fiber and omega-3 fats, come both whole and ground up as flour, according to the Huffington Post. While whole, chia seeds can make for delicious breakfast or dessert pudding. When ground up, they are good for baking anything from muffins to scones. 
5. Flax
Flax meal is the ground-up version of the thin tan plant. While flax has a variety of health benefits, ranging from protein to micronutrients, it's important not to overdose on it, for risk of laxative consequences, according to Gluten-Free Living. Regardless, flax comes in handy when baking breads. 
6. Xanthan Gum
Xanthan gum is an emulsifier and thickener that is commonly used in gluten-free baking. It's made from a strain of bacteria that reacts with usually corn-derived carbohydrates, according to the Kitchn. Only a tiny bit is needed to replace the characteristics of gluten.