11 Things You Missed If You Watched the Oscars Instead of Justice for Flint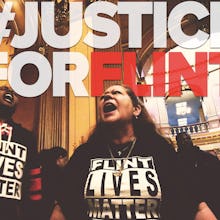 More than 2,000 miles away from the glitz and glamour of the Oscars, a determined group of Hollywood heavyweights used the collective weight of their influence to raise more than $140,000 for residents of Flint, Michigan. 
The stars, brought together by directors Ava DuVernay and Ryan Coogler, were among a group of African-American artists who turned out in Flint to bring attention, and desperately needed resources, to residents who'd been poisoned by their city's lead crisis for more than a year. They held a massive, livestreamed concert called Justice for Flint.
Read more:  22 Powerful Photos Show the Devastating Reality of Flint's Water Crisis
Here are some of the best moments from the night that you may have missed.
1. Stevie Wonder performed.
2. So did Janelle Monáe:
3. Comedian Hannibal Buress performed, too:
4. Actor Jussie Smollett made a surprise appearance.
5. Grammy-nominated singer Ledisi performed.
6. Vic Mensa debuted a new song.
7. Jazmine Sullivan brought down the house.
8. Director Ryan Coogler did lots of work behind-the-scenes...
9. ...so did outspoken actor Jesse Williams.
10. Dr. Mona Hanna-Attisha got a hero's welcome.
It was a chance dinner in August that led pediatrician Mona Hanna-Attisha to begin testing lead levels in the blood of kids in Flint. Since then, she's been credited with helping uncover the heartbreaking consequences of the devastating crisis, namely the fact that lead poisoning levels for the city's children had doubled since officials decided to switch its water source.
She took the stage on Sunday night to tell the community — and, thanks to the livestream, the world — what's at stake. "This is a human issue," she told the crowd. "This is not a political issue."
11. The people of Flint took center stage — and looked toward the future.
While the stars were the biggest attractions, the night really belonged to the people of Flint. At one point, a group of young poets performed.
The 88th Academy Awards were a night to celebrate for many. #JusticeForFlint was a night to remember. 
h/t Mashable