Bernie Sanders Won Four of Five States He Targeted. His Super Tuesday Was Still a Disaster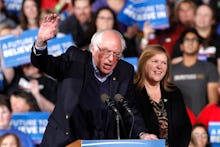 It was only 7:30 p.m., and Bernie Sanders was already onstage. Speaking at the Champlain Valley Exposition in Essex Junction, Vermont, before much of the country had finished voting on Tuesday, the senator proclaimed victory in his home-state primary, unsure whether he'd notch a win in any other nominating contest. 
But if Sanders' abnormally early appearance seemed to betray a lack of confidence, the night's results could actually have been far worse. Sanders had targeted five of the day's 11 states for victory, hoping to prevail over frontrunner Hillary Clinton in Vermont, Minnesota, Oklahoma, Colorado and Massachusetts.  
Sanders won all of those contests but Massachusetts. Clinton barely eked out a win in the Bay State, eight years after she romped then-Sen. Barack Obama there by more than 15 percentage points.
The night was still a disaster for Sanders.
Let's start with his loss in Massachusetts. While he outperformed Obama's 2008 showing there, Sanders' weakness in more multiethnic, less uniformly liberal states meant he needed to notch a resounding victory there. According to a demographic analysis conducted by statistics whiz Nate Silver of FiveThirtyEight, Sanders ought to have won the commonwealth by about 11 percentage points. 
But Sanders can afford to underperform a bit in states like Massachusetts if he makes up significant ground in states with heavy minority populations. There's one major problem: He's doing nothing of the sort.
Three days after Clinton walloped Sanders by more than 70 points among black voters in South Carolina, Sanders sustained another round of crushing defeats in the South on Tuesday. In his best Southern state, Virginia, Sanders garnered just 35% support to Clinton's 64%, losing African-American voters there 82% to 18%. 
Farther South, Sanders performed even worse, losing to Clinton by margins ranging from 34 points in Texas and Tennessee to 51 points in Alabama, according to the latest tallies. 
Thanks to her overwhelming strength in the Southern contests, Clinton has extended her already-substantial delegate lead over Sanders; according to the latest figures from RealClearPolitics, she has now won 526 pledged delegates to Sanders' 325. Adding in superdelegates, the scale of the challenge confronting Sanders becomes even clearer: Clinton crushes him 983 to 347, placing her well on the path toward securing the 2,382 delegates needed to win the nomination.
There's no getting around it: Barring a complete campaign meltdown, Clinton has little to fear from Sanders.