Black Woman Thrown Out of Donald Trump's Super Tuesday Rally in Kentucky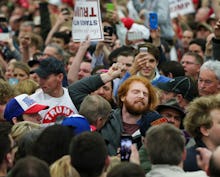 Donald Trump dominated the Republican ballots on Super Tuesday, but it was his supporters who once again made headlines.
One day after 30 black students were kicked out of a Trump rally in Valdosta, Georgia, a young black woman was forcibly removed from Trump's Super Tuesday rally in Louisville, Kentucky.
Read more: Chris Christie Standing Behind Donald Trump Was the Saddest Part of Super Tuesday
It's not exactly surprising that young black students have been protesting at Trump's rallies. After all, his highly charged rhetoric against immigration, Muslims and Black Lives Matter have made him a hero for white conservatives. Trump himself has even encouraged his supporters to remove hecklers.
What makes this Super Tuesday video so disturbing is how forceful those supporters are with the black woman. At one point as she's being escorted through the crowd, she is pushed and shoved by at least two different white men.
"It's only a matter of time before someone gets killed at future events," wrote the New York Daily News' Shaun King.