Accusers in Alleged University at Albany Hate Crime Charged With Assault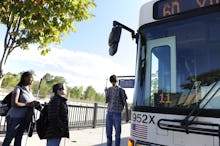 On Monday, Asha Burwell, Alexis Briggs and Ariel Agudio walked into an upstate New York courtroom as defendants in a case that at first galvanized, and then shocked, their fellow students and staff at the University at Albany.
All three students pled not guilty to misdemeanor assault charges stemming from a physical altercation on a bus that gained national attention. The incident was initially investigated as a potential hate crime in which all three women reported being "beaten" and "continuously called ignorant and then niggers," according to Burwell's first-hand account that was posted on social media. 
Within hours of the alleged incident, the hashtag #DefendBlackGirlsUAlbany began trending on Twitter. Hundreds of students gathered on campus to support the three women. Even Hillary Clinton took notice:
Now, all of that is being called into question. Partial video of the incident seems to refute the girls' claims. In the video, one of the girls can be seen repeatedly hitting a person in the back of the bus. All three of the students have declined to speak to Mic about the incident and their arrests.
In a statement issued to the public on Feb. 26, the school's president Robert J. Jones called the turn of events in the case "unsettling." 
"I have been very clear that this university does not tolerate violence, bias and hatred directed at anyone," Jones said. "And I have been very clear that if any of our students were found to be responsible for violating our code of conduct, then they will be held accountable."
On Feb. 11, nearly two weeks after the bus incident occurred, Burwell posted a message on Twitter that read: "Please don't confuse my silence with defeat," she said. "I'm still fighting this, like I said I will not give up. The truth will come out soon."
On Feb. 28, an activist group called Capital Area Against Mass Incarceration published an open letter in support of the three students. "Many of us who rallied behind you from the beginning did so in an attempt to offer comfort and reprieve in the immediate aftermath of the attack," it read. "We also understood that by coming forward you were opening yourselves up to an additional onslaught of calculated violence from members of the general public," the letter read. 
Meanwhile, opinions on campus are split. "I feel like they kind of messed it up for the rest of us," Olivia Bishop, a junior at the school, told the New York Times. "It's like, I stood up for you, and now to figure out that you wanted this whole thing to be a hoax, it's disappointing. It's just honestly the saddest thing in the world."