Meet Kahlil Joseph, the Young Black Director Behind Kendrick Lamar's Most Powerful Images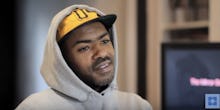 On Thursday night, Kendrick Lamar pulled a Beyoncé and surprised fans with a new album called Untitled Unmastered, a collection of previously unreleased tracks. The album came just hours after a short film based on his 2012 album Good Kid, M.A.A.D. City surfaced online. With this type of creative output, Lamar is not playing games. And Twitter is grateful.
Despite appearances, the film, entitled M.A.A.D., isn't exactly a Kendrick Lamar production. That distinction goes to Kahlil Joseph, a young, black Los Angeles-based filmmaker who has brought his signature style to a host of the rapper's most visible projects. As Eric Ducker wrote for the Verge, the 15-minute short film was originally screened back at Los Angeles' Museum of Contemporary Art in 2015 and offers gripping images to accompany the vivid storytelling on GKMC, the tragic love story about coming of age in Compton. 
The film also includes footage of Lamar's father posing and posturing with friends in 1992, along with a young Kendrick, about a month before the Rodney King verdict and uprising:
The video's been uploaded to YouTube several times — and subsequently removed — since Thursday night. Here's the latest working link as of press time:
Joseph also directed a short film for Flying Lotus' "Until the Quiet Comes."
He's also directed a short film for Seattle-based hip-hop group Shabazz Palaces:
And FKA Twigs' "Video Girl."
Vice pretty much dubbed him "hip-hop's most important video director." Similarly, visual artist Duane Deterville wrote on the San Francisco Museum of Modern Art's website, "The consensus of opinion amongst my peer group is that Joseph's short film is pure genius." He continued, "But beyond that, it seems, to have touched and strummed a chord of emotion in some of us that is beyond the words that we normally use to describe film." 
In a 2012 review in the New Yorker, Hilton Als described his work this way: "Joseph doesn't make music videos so much visual riffs on the music that, in turn, infuses his very real, present and fantastical images."
In an interview with Vice, Joseph described how race informs his artistic process. "I shoot communities because I think there's a lot of richness there and a lot of honesty and a lot of pain," he said. "It's interesting how they deal with that pain, it's been there for centuries. And it's not fake pain. They mask it with all these layers to the point where they don't even know what they're masking."