Berta Cáceres, A Fierce Indigenous Rights Activist, Was Just Murdered in Honduras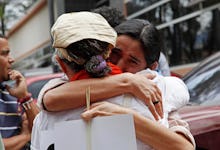 Berta Cáceres was murdered Thursday morning after unidentified gunmen entered her home in La Esperanza, Intibucá, Honduras, according to reports. 
The renowned indigenous rights activist — who won the Goldman Environmental Prize in 2015, the largest award for grassroots environmental activists in the world — would have turned 46 today.
Cáceres was a member of the Lenca people, the biggest indigenous group in the country, according to the Guardian. In the week leading up to her death, she had received multiple rape and death threats for opposing hydroelectric projects in the region.
It's unclear how many gunmen entered Cáceres' home, or how many shots were fired — though a friend told reporters that at least four bullets were found in her body. Her brother was also injured in the attack, but he lived. According to NPR, Cáceres is survived by her four children — ages 26, 24, 23 and 21 — and her mother.
Authorities told reporters the killing took place during a robbery attempt, but Cáceres' family insisted it was an assassination stemming from her environmental work. Cáceres spent much of the past two decades standing up to wealthy landowners and foreign investors, whose dealings were often backed by the pro-business policies of the Honduran government.
Her best-known campaign was against the Agua Zarca project, a proposed series of four dams across the Gualcarque River basin — sacred land for the Lenca. According to the Guardian, it's one of the largest hydropower projects in Central America. The dam would also cut off hundreds of Lenca people from access to important water sources, food and medicine, the BBC reported. 
Cáceres' efforts against the dam's construction successfully prompted Sinohydro, the world's largest dam builder, and the International Finance Corporation, the World Bank's private sector wing, to withdraw from the project. 
Cáceres has long demonstrated an understanding of how risky her work was, particularly in a country where violence against environmental advocates and voices critical of the government has risen of late. Until recently, Honduras had the highest murder rate in the world. The country's government was overthrown in a military coup in 2009, and the post-coup nationalist administration awarded 47 hydroelectric dam concessions with a single law the next year.
In a 2013 conversation with Al Jazeera, Cáceres claimed the army itself was after her:
"The army has an assassination list of 18 wanted human rights fighters with my name at the top. I want to live, there are many things I still want to do in this world but I have never once considered giving up fighting for our territory, for a life with dignity, because our fight is legitimate. I take lots of care but in the end, in this country where there is total impunity I am vulnerable ... when they want to kill me, they will do it."
Victoria Tauli-Corpuz, the United Nations special rapporteur for indigenous rights, told the Guardian she was "saddened and horrified" by Cáceres' death. "This shows the high level of impunity in Honduras. Beyond the high homicide levels in society, there is a clear tendency for indigenous campaigners and human rights activists to be killed," she said.