What Spike Lee's 'Chi-Raq' Beef With Chance the Rapper Says About Chicago's Activism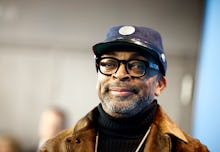 Remember when Chance the Rapper called Spike Lee's latest film Chi-Raq "exploitative and problematic"? Well, the legendary director heard the criticism and didn't take it well.
During a talk at Northwestern University on Wednesday, Lee called Chance a "fraud" and his criticism of the film a "punk ass move." He even took aim at the rapper's father, who was appointed by Mayor Rahm Emanuel as the city's deputy chief of staff and director of the Mayor's Office of Public Engagement, and said Chance was "on the mayor's payroll just like his father."
But the rapper was only one of many critics who took Lee to task for his representation of violence in Chicago. Thelonius Martin, a Chicago music producer, also wasn't a fan:
And neither were some parents of murdered children in the city, who spoke out while Lee was filming the movie in Chicago. 
"I just think [the film is] going to glorify the killing," Delphine Cherry, who lost two children to gun violence, told the Guardian in 2015. "They don't care about the killings or our kids. They get glory about watching the pain of the parents."
Months after the film's official release, it's still drawing criticism — and praise — in a city that's been roiled by political instability. Late in 2015, video was finally released of Laquan McDonald being shot 16 times by Chicago police, and protesters have since called for Emanuel's resignation. Now, Cook County State's Attorney Anita Alvarez, who has been criticized for her handling of the McDonald case, is facing an uphill battle for re-election. 
There's no one way to handle Chicago's violence, just as there's no one way to represent it. What Chicago's artists and activists seem to be asking for is more opportunity to represent their own stories, rather than have outsiders do that for them. 
Despite the criticism, Lee is still one of the most decorated black filmmakers of all time. And the fact that Chicago's violence is part of a national conversation is perhaps one meaningful victory.