This Remix of Kesha's "Die Young" Captures the Anguish of Being a Sexual Assault Survivor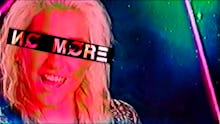 What would Kesha sound like if she had never crossed paths with Lukasz "Dr. Luke" Gottwald?
What would she sound like if the dynamics of her relationship with Dr. Luke didn't translate onto their records? What if they weren't glossed over by Gottwald's slick production?
One of the most unexpectedly challenging aspects of the current Kesha/Dr. Luke legal battle for fans is the realization that the music they've loved for years was built in an environment mired by intimidation and abuse. In a new remix of Kesha's "Die Young," producer We Are Temporary has attempted to draw this truth out of Kesha's music. 
The resulting video, premiering on Mic, is provocative, dark and designed to make the listener uncomfortable. "We should be uncomfortable," We Are Temporary wrote in a statement explaining the video and its aims. "Uncomfortable enough to say something."
The remix strips out all of Dr. Luke's original production on "Die Young" and distorts its original video into a more accurate depiction of the nightmare allegedly taking place behind the scenes. The song is a particularly contentious one in the history of Kesha and Dr. Luke's relationship. It was one of the first opportunities for fans to see that something was amiss at Kemosabe records.
"I did not want to sing those lyrics and I was forced to," Kesha tweeted when the song earned backlash right after the Sandy Hook shooting. The song's title and presence on the radio felt dissonant with then-current events.
When We Are Temporary started working on the remix, the abuse allegations hadn't yet come to light. It was intended as a surprise for his wife, Mary, a huge Kesha fan and "an absolute warrior of a woman," as We Are Temporary described her. Mary is also a victim of sexual abuse. When the allegations broke, it became a huge topic of conversation around their house.
"It occurred to me then I still had this unfinished Kesha remix lying around," We Are Temporary told Mic. "After a quick Google search informed me that Dr. Luke did in fact produce 'Die Young,' I ripped out all of the original production elements, and decided instead to focus in on Kesha's voice and give the remix a more somber and menacing electronic sound."
When We Are Temporary shared it with his wife, she didn't think he'd taken if far enough.
"She wanted me to amplify the discomfort, since the listener should be uncomfortable," We Are Temporary said in an updated statement than the original posted to SoundCloud. "Mary thought that I should do more to highlight this juxtaposition by distorting and mangling the rap — an idea which I immediately jumped on. What started out, then, as a bit of an inside joke between my wife and I, transmogrified into an act of solidarity — not just between us and Kesha, but also between me and my wife."
"As allies, it's our personal and collective responsibility to act in support of victims of any type of abuse," said Mike Mazzotta, aka Videopunks, in an email statement to Mic. Videopunks helped create the hallucinatory visuals in the remix video. "As a working artist, I have oftentimes been witness to an oppressive climate where allegations of abuse are ignored and where the creative contributions of women are systemically undervalued. We Are Temporary's remix presented an opportunity to lend my voice against abuse, transforming Kesha's original video into a visual commentary, not only on Kesha's own situation, but the plight of many of our peers."
The video's power is hard to stomach, but its absolutely necessary. As Kesha herself has pointed out, her case speaks to silenced victims the world over. The only way we'll start creating change is to start saying "No more."