A Case for Medical Marijuana: How Weed Helped a Teen Cope With 3,000 Seizures a Day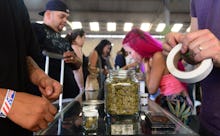 Frederic J. Brown/Getty Images
Toni Richard, the mother of a 15-year-old who has autism and epilepsy, allows her son to combat the 3,000 seizures a day he was once afflicted with by using an unconventional method: medical marijuana.
"In 13 years, my son had slept 50 nights, so the night we started medical marijuana, he slept through the night, and now he pretty much sleeps almost every night," Richard told KRNV. "I am not a drug dealer. I am just a mom trying to keep my child alive. It's not a gateway drug — we're just trying to keep our children alive."
Her son went 375 days without a seizure since first using medical marijuana as a treatment, according to Richard. He was taking between 20 to 25 pills a day for the seizures. 
Read more: 6 Marijuana Facts You May Not Have Known — From Health Benefits to the Truly Bizarre
Medical marijuana is defined by the Drug Enforcement Administration as a Schedule 1 substance, or a drug "with no currently accepted medical use and a high potential for abuse." Krista Colletti, the Richard family pediatrician, notes the difficulty the label creates for patients. 
"As a Schedule 1 medication, it has to be approved by two different government agencies in order to even get a sample to test on anyone, much less children," Colletti told KRNV. "And getting anyone to agree to do any sort of medical testing on children can be very hard." 
Richard joins a growing population of Americans who believe that medical marijuana may be a reasonable alternative to pills. In 2013, one family began to use medical marijuana for their young child, Charlotte, experienced seizures. 
In November, protesters camped out in front of the U.S. Department of Veterans Affairs in Washington, D.C. to promote the idea that cannabis could be a sound substitute to the drugs veterans are regularly prescribed. "A patient should have the right to choose the best health care to save his life," Army veteran Brandon Wyatt told the Huffington Post in November. "Because we hate cannabis so much, we're willing to let 22 veterans die per day? How can you ignore that?"
However, "as marijuana use is still a federal offense, VA will not provide for use or conduct research with illegal substances regardless of state laws," a VA spokeswoman told the Huffington Post. 
Proponents of medical marijuana often make the argument that marijuana can effectively treat various diseases, such as glaucoma and multiple sclerosis and help ease pain. And according to a 2014 WebMD/Medscape survey, a majority of physicians in the United States (69%) said medical marijuana can help with certain treatments and conditions, with 67% believing cannabis should be a medical option for patients. The survey recorded the responses of 1,544 doctors. 
"Despite more than 20 years of anecdotal evidence about the medicinal effects of marijuana, doctors and consumers remain in search of answers," Michael Smith, WebMD's chief medical editor, said in a statement in 2014, according to U.S. News & World Report. "The findings of our consumer-physician survey indicate the medical community's support for the use of marijuana as a treatment option, particularly among clinical specialties that have pioneered research."
Twenty-three states, the District of Columbia and Guam have all passed some form of legislation allowing for the medical use of marijuana as of January, according to the National Conference of State Legislature. California was the first state to allow the use of marijuana to be used medicinally, after the state's voters passed Proposition 215 in 1996. Since the Supreme Court's ruling in 2001 that classified medical marijuana as still illegal for ill patients, the tide appears to be turning in 2016.
"I think it's game over in less than five years," Oregon Rep. Earl Blumenauer told the Huffington Post in 2014. "There's no question that we're likely to see another state or two this year legalizing [recreational] use. We're going to see more medical marijuana progress. The crazy prohibitions on bank services and probably the tax disparities — these are all eroding."
The case for medical marijuana will only become stronger in the coming years. Soon, the entire nation may have access to cannabis as an alternative to prescription drugs. Only time will tell.