Johnny Depp Had a Cameo in 'The Walking Dead' (Sort of) — Did You Spot Him?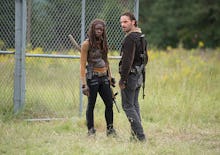 A-list Hollywood actor Johnny Depp appeared in Sunday night's episode of the zombie drama series The Walking Dead — at least, a part of him did. According to the show's executive producer Greg Nicotero, who directed Sunday night's episode, titled "Not Tomorrow Yet," one of the severed heads that made an appearance was based on Depp.
Read: 'The Walking Dead' Season 6, Episode 10 Recap: New Character Jesus Enters "The Next World"
"One of the other heads, I don't know if I'm going to get in trouble if I say this, was Johnny Depp," Nicotero told Entertainment Weekly on Sunday. "I think we had sculpted an emaciated version of a dummy head for something and we used Johnny Depp's head as a basis just for a clay sculpt."
One of the other prosthetic heads that appeared in Sunday night's episode of The Walking Dead was based on Nicotero himself, he told Entertainment Weekly, "The Gregory head is actually a cast of my head. When Xander Berkeley was cast as Gregory, we didn't have enough time to get him to Los Angeles to do a head cast and make a dummy head of him, so I sent photos of him and I said, 'Here's a picture of the actor. Let's see what we have in stock that looks as close to Xander as it can be.' It ended up being a mold of my head. So that head that he picks up is actually a fake head of me!"
The Walking Dead airs on AMC on Sundays at 9 p.m. Eastern.