Peyton Manning Laughs Off Question About Alleged 1996 Sexual Assault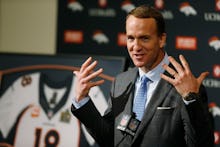 At a press conference on Monday announcing his post-Super Bowl 50 retirement, 39-year-old Denver Broncos quarterback Peyton Manning fielded a question about accusations that he sexually assaulted a University of Tennessee athletic trainer in 1996.
During his response — which ESPN reports is the first time he has publicly denied the incident — Manning referred to his accusers as "sad" before quoting Forrest Gump in an effort to make light of the controversy.
As Barstool Sports notes, Manning's response was cut off midway on ESPN.
But video still emerged of Manning making a Forrest Gump reference to laughter from the press — hardly an indication the five-time National Football League MVP, or reporters present at the conference, were taking the matter seriously.
"This is a joyous day, and nothing can take away from this day," Manning said. "I think it is sad that some people don't understand the truth and the facts."
"And I did not do what has been alleged," he continued. "And I'm not interested in re-litigating something that happened when I was 19 years old. Kinda like my dad used to say when I was in trouble, I can't say it any plainer than that. So this is a joyous day, and a special day. Like Forrest Gump said, 'That's all I have to say about that.'"
UT settled with university trainer Jamie Naughright in 1997 for $300,000 over the incident, during which Manning allegedly thrust his genitals into Naughright's face while he was a student-athlete in Tennessee. He later apologized, but only admitted to unintentionally mooning her. The incident did not end there, USA Today reports, with Naughright later suing and settling with Manning for an undisclosed amount over alleged defamation in the quarterback's 2000 book.
In 2001, someone mailed an excerpt from the book, which said Naughright had a "vulgar mouth," to her new place of employment at Florida Southern College. In the suit, the trainer alleged the anonymous letter caused her to lose her job.
The controversy continued with another settled defamation suit against Manning in 2005, according to SB Nation. In February 2016, Manning's alleged actions were mentioned in a Title IX lawsuit brought by six women against the University of Tennessee, claiming the school ignored alleged assaults and created a "hostile sexual environment."
The allegations received little scrutiny in the press at the time, according to the Big Lead.
Manning's place in football history is more or less guaranteed, and he is considered a virtual lock for the Pro Football Hall of Fame when he becomes eligible in 2021. But it's a damn shame that fame apparently entitles Manning to laugh off a very serious question about the totality of the legacy he is leaving behind and whether or not he sexually assaulted a woman.
h/t Barstool Sports
Update: March 9, 2015: A prior version of this story incompletely quoted Manning based on an ESPN report. It has been updated with a complete quotation from NBC Sports.