William Porter Must Testify in Trials of Baltimore Officers Accused in Freddie Gray Death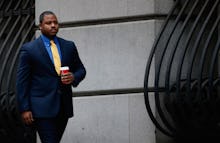 William Porter, one of six officers accused in the death of Freddie Gray, will have to testify against his fellow officers, according to a ruling from Maryland's Appeals Court on Tuesday.
Porter was the first of the six officers to stand trial in late 2015 for Gray's death. After six weeks of court proceedings, a jury declared a mistrial. His fellow officer Caesar Goodson's trial was postponed while the court decided about whether Porter could be compelled to testify against him and the others.
"This is just a temporary bump on the road to justice," Billy Murphy, Gray's family's attorney, told reporters, after Porter's mistrial. "It happens. It's part of how the system works."
Goodson drove the transport vehicle in which Gray suffered a fatal spinal injury in May. He faces a slew of the most serious charges, including second-degree depraved-heart murder. Prosecutors allege that Gray, who was not strapped securely inside of the vehicle with a seat belt, was a victim of what's commonly known as a "rough ride," in which police officers drive erratically with a handcuffed suspect inside of the vehicle. 
During his own trial, Porter testified that Goodson initially refused to take Gray to a hospital. Porter will be retried after all of the other officers' trials are completed. Goodson, meanwhile, will be on trial soon.
Gray's death led to days of civil unrest in Baltimore that culminated in State's Attorney Marilyn Mosby announcing indictments of all six officers. 
Months after the unrest, Baltimore approved a $6.4 million settlement for Gray's family. Baltimore Mayor Stephanie Rawlings-Blake told reporters at the time that the settlement was the city's effort to move forward. 
"All of us realize that money cannot, will not — there's no possibility — to bring back a loved one," she said. "I hope that this settlement will bring a level of closure for the family, for the police department and for our city."