Total Solar Eclipse 2016: The Must-See Photos of Last Night's Big Event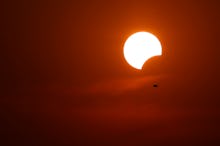 A dazzling solar eclipse hit the sky on Tuesday night — but unfortunately, only parts of Asia could view it. Thanks to the internet, however, people all over the world could follow along.
During a solar eclipse, the moon passes directly between Earth and the sun. This phenomenon occurs very rarely, as the moon and the sun do not orbit on the same plane. 
Once the eclipse reaches totality, and the moon is centered in front of the sun, you can see the faint outline of the sun's fiery atmosphere, called the corona.
"Your surroundings take on a twilight cast, even though it's daytime and the sky is still blue," said Sarah Jaeggli, a NASA space scientist who's observed previous solar eclipses, in a press release.
If you weren't in Southeast Asia to see the eclipse for yourself, we've rounded up some of the best images from around the world.
Here's the solar eclipse in Bangladesh:
Over Indonesia:
Cambodia:
Bangladesh again:
The Philippines:
Myanmar:
And Indonesia:
Even when it is almost totally obscured by the moon during a solar eclipse, looking directly at the sun can still damage your eyes. On Tuesday night, viewers wore protective eclipse glasses.
Lots of stargazers posted their photos on Instagram, too:
The next solar eclipse will happen in 2017, and it will be visible from the U.S.