The Notorious B.I.G. Died 19 Years Ago, But This DJ Keeps His Music Alive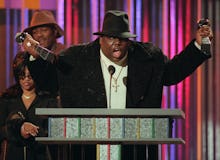 The mixtape opens with a boastful — even controversial — statement: "The greatest rapper of all time died on March 9."
The rapper in question is the Notorious B.I.G., aka Biggie Smalls, aka Christopher Wallace, the Brooklyn-bred rapper who turned hip-hop on its head over the course of just a few years in the 1990s before being gunned down on March 9, 1997. His death happened just months after his onetime-collaborator-turned-rival Tupac Shakur was killed in Las Vegas, and both killings marked the peak of one of hip-hop's most brilliant and bloodiest eras. 
Read more: Who Killed Biggie Smalls? What the FBI Files on the Murder Have Revealed About the Case
The mixtape in question is March 9 by J. Period, a DJ who's based in the central Brooklyn enclaves that Biggie called home. The first installment was released in 2007 to mark the 10th anniversary of the rapper's death. Named for the day that Biggie died, March 9 represented a departure for J. Period. Well-known and respected across the industry, J. Period has done projects with Lauryn Hill, The Roots and Q-Tip. Each one captures a particular moment in hip-hop and offers up a story about the artist at its center, whether it's their climb to the top or their struggle in the spotlight. With Biggie, everything was different.
"A lot of people say Big could paint pictures with words," J. Period told Mic. On the March 9 mixtape, "he is the storyteller, I just give him a landscape, context and scenery."
That landscape was built with a trove of unreleased a cappella verses from another DJ named G. Brown that takes listeners from the moment of Biggie's death throughout his career. 
Not long after the first mixtape came out, J. Period released a second installment. In a culture long stratified by regional beefs, he was out to prove that Biggie was more than just an emcee whose jazzy smooth cadences captured the East Coast. On the second mixtape, J. Period mixed the rapper's verses over quintessentially West Coast beats that had their roots in funk.
"I put Big's lyrics over West Coast and Dirty South beats and he would still rip it," J. Period told Mic.
In 2014, J. Period released March 9 Revisited, which offers a more contemporary take on the rapper's lasting influence. On it, he mixes the rapper's verses with newer work from Kendrick Lamar, Jay Electronica and other younger emcees who speak about Biggie's influence.
"This whole project came out of an urgent need to reinforce this man's legacy," J. Period said about the trilogy. "Every year, these mixtapes get new life and that's a testament to how timeless his music is."