Hot Convict Jeremy Meeks' Actual Job Prospects Aren't So Sexy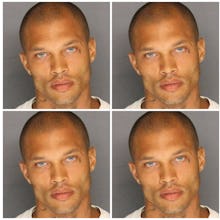 This is Jeremy Meeks:
He's a 32-year-old married father of three from Stockton, California:
He also happens to be famous because of a mugshot that went viral — a mugshot that showed him to be really, really, ridiculously good looking:
Meeks was sentenced to two years in federal prison after police found a semi-automatic handgun in his car in June 2014. He'd previously spent time in prison for grand theft auto. On Wednesday, Meeks was released from prison and is reportedly ready to start his modeling career. 
"I want to thank my family and everybody for all your love, support and prayers," Meeks wrote on Instagram shortly after his release Wednesday. "I'm overwhelmed and grateful for what lies ahead."
He has plenty of reasons to be overwhelmed. Every year, more than 600,000 people find themselves in Meeks' shoes. They're released from state and federal prisons and enter a job market that's notoriously hostile to people with criminal records. One national survey conducted by the Ella Baker Center for Human Rights in California found that more than 60% of formerly incarcerated people remain unemployed after their release, and 76% rated their experience of finding work "very difficult or nearly impossible." 
That's led to a national campaign to "ban the box" that job applicants have to check on applications if they've been convicted of a crime (92% of large employers currently run background checks). The problem has gotten so bad that President Barack Obama has gotten involved, Vox reported.
In 2013, Kai Wright reported for the Nation how a criminal record can stunt a person's employment prospects for life, especially if they're black. "The millions of people who likely get locked out of the job market as a result of their records aren't just sitting around," Wright wrote. "They're churning through formal and informal part-time work, fueling a shadow economy akin to the one that often exploits undocumented workers." 
For Meeks, that informal work now includes trying to bank on a moment of viral fame that's notoriously difficult to monetize. In 2015, New York magazine's Clint Rainey caught up with a handful of onetime internet sensations. "Internet fame can come on like an earthquake," Rainey wrote. "Then it usually recedes into a very long, thin afterlife."
For now, Meeks is putting his future in the hands of Jim Jordan, a self-described "world-class fashion, celebrity and lifestyle photographer."
Thanks to his criminal record, Meeks probably has a better shot at supermodel stardom than getting a job at his local Domino's Pizza.