An All-Female Engineering Team Invented a Breakthrough Device for People in Wheelchairs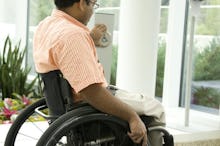 A group of female engineers at Berlin High School in New York are building a way for people with disabilities to participate in physical activity.
Their invention is essentially a control panel with a robotic mount and arm that will allow a disabled person without a full range of motion to throw a small object like a ball back and forth, WTEN reported. You can see a video of their invention here. 
It comes with a launch mechanism too.
The girls' project is part of a Massachusetts Institute of Technology grant that tasked high schools across the nation with coming up with a solution to an everyday problem. The girls were inspired after seeing a classmate with disabilities who was unable to participate in gym class, according to WTEN.
According to a 2014 report, about half the people in the United States with a disability don't exercise, and it's putting their health at risk. Physical barriers, like lack of wheelchair access to gyms, and psychological barriers can play a role in this. 
But there's a growing number of devices designed to help people overcome the physical barriers to exercise. The University of Southern Maine has a resource guide to devices designed specifically to help people with disabilities participate in things like bowling, billiards and fishing. 
The Berlin High School girls are looking into testing the device out at their school and a way to patent the technology and sell the product. Their invention will appear at MIT's annual Eureka Fest in June.
"I think anytime there's an opportunity to pursue a device that would help someone else out, that's what we're here for," technology education teacher Dawn Wetmore told WTEN.
h/t WTEN