'The Carmichael Show': Bill Cosby Episode Takes on the Concept of Fallen Idols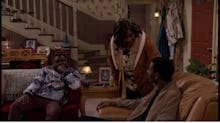 Bill Cosby made his return to television Sunday night on NBC, but not in the way you'd think. The controversial comedian and alleged rapist was the subject of debate on The Carmichael Show — NBC's sophomore sitcom starring comedian Jerrod Carmichael, in an episode appropriately titled "Fallen Heroes." 
The episode presents a moral dilemma for Jerrod, who plays himself on the show, as he debates the moral implications of supporting someone who was once an idol for him — a concept that's personal for the comedian. Moreover, the subject matter is not only applicable to Cosby, but also to the idea of fallen idols in general, and whether we can, or should, separate the art from the artist.  
Read more: What Bill Cosby's Fall Means for Black People in America
"Fallen Heroes" begins with Jerrod inviting his girlfriend, Maxine (Amber Stevens West) to a comedy show. She's initially apprehensive, until Jerrod explains that the comedian's comedy is less crass than others and family-friendly. She's enthused, until she looks at the ticket and sees the name: Bill Cosby. From there, the couple goes to Jerrod's parents' house, where they tackle the issue of Cosby as a family. 
The arguments for attending or boycotting the fictitious Cosby performance are not one-sided, which helps bring thoughtful dialogue. Like ABC's Black-ish, which aired an episode about police brutality in February, it presents both sides of the argument. In this case, it's the issue of whether you can still enjoy Cosby's comedy, even with him being accused by over 50 women. 
"Characters don't necessarily suggest Cosby didn't do it, but they do debate the tougher issue: whether that means they have to completely throw away what he and his show meant for them," Jesse David Fox wrote for Vulture. "Carmichael is not a Cosby apologist; he's an apologist for the Cosby apologist begrudgingly lingering in our subconsciouses."
Notably, Jerrod calls out Maxine for boycotting Cosby but still listening to Michael Jackson, who dealt with sexual assault claims of his own. His parents, meanwhile, are torn: Joe (David Alan Grier) is in the mindset that he isn't legally guilty yet, which means the claims shouldn't be seen as concrete evidence, though Maxine notes the sheer number of women who have come out and the constant failures of our justice system with trying celebrity figures. 
The Carmichael Show isn't afraid to tackle Cosby's positives for black actors and comedians — defining Cosby as an important figure for change. "Sprinkled throughout are observations and opinions that ring true for many black people who grew up in a world where Cosby was once considered a shining example of racial progress in America: Bobby is more opposed to the comedian on the grounds of his notoriously fogeyish critiques of young black Americans," Aisha Harris wrote for Slate. "Jerrod points to the importance of The Cosby Show and how it made them believe that they, too could go to college." 
Ultimately, Jerrod and Joe decide to go to the show together, much to the chagrin of Maxine. However, Joe has a change of heart prior to entering the parking lot — though in the show's comedic guise, his excuse is the abhorrent $20 parking fee. Jerrod, meanwhile, attends the show but left halfway through, admitting he can't stomach Cosby's comedy anymore given the alleged sexual assaults. It likely represents an internal conflict for Carmichael in real life — with no clear answer to the issue. 
"It's always perspective, never a message," Carmichael said, in an interview with Variety. "It's not talking about the right or wrong of it — it is discussing our feelings on Bill Cosby in light of recent things. We kind of turn the dilemma on ourselves. Most shows want to put a bow on things, but we're not really interested in that." 
As such, viewers on Twitter praised the show's handling of the controversial subject:
"Fallen Heroes" ends with the family discussing which episode of The Cosby Show to watch, before ironically settling for a non-controversial sitcom to binge through: Seinfeld, where a post-series Michael Richards is best known for a racially charged tirade. As a result, it demonstrates that the show doesn't have a wholly correct answer to the Cosby issue, or the separation of art and the artist. 
"It would minimize the effect of the episode to think that it ends in moralization," Kevin Fallon wrote for the Daily Beast. "The show's strength is its comedic questioning, not in punchlines disguised as answers — because maybe there isn't one. Is it OK to laugh at Cosby? Your answer, the show says, is as good as mine."
By not hailing one opinion as the right one, The Carmichael Show demonstrates the sad reality of Cosby's actions, and the conflict found even in Cosby's most ardent fans (like Jerrod). Like Black-ish, The Carmichael Show is tackling important social issues through the absurdity of comedy, and the series demonstrates that poignant commentary doesn't come at the expense of great laughs.