This Quadriplegic Woman's Humorous Makeup Tutorial Shows Different Side of Disability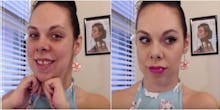 Most beauty addicts can agree that creating the perfect cat eye is not easy. But comedian Meag Gallagher masters an eyeliner look that puts Adele's makeup to shame in a new adorably quirky beauty tutorial. She also happens to be quadriplegic.
Read More: Inspiring Beauty Vlogger Jordan Bone Just Revealed She's Partially Paralyzed
Gallagher grew up acting and singing but later turned to standup comedy after injuring her spinal cord in an car collision in 2005, leaving her paralyzed from the chest down. She underwent a bilateral tendon transfer surgery in 2008 to gain function in her hands and has since relearned how to do everyday tasks (applying makeup, writing, etc.) in a way that works for her.
"I thought people would be interested in seeing how I put myself together, and maybe that could inspire someone else with their look, whether they're disabled or able-bodied," Gallagher told Mic about the inspiration behind the video.
This tutorial features Gallagher describing and applying her everyday makeup routine, from foundation to lipstick. She often uses her mouth for assistance and holds products in a way that is accessible for her. 
"I got special paws, but who cares? I can still make my face look beautiful thanks to makeup," she says in the video. "Get over it: Sometimes I have to put brushes in my mouth to make things work."
In addition to the inspirational message behind this video, Gallagher uses just the right amount of humor about her "wonky fingers" and "makeup paws" to show that having a disability is not a humorless setback.
"I love comedy. It can take uncomfortable issues that we avoid and make people face them through jokes," Gallagher told Mic. "Comedy is a powerful and healing art form. Humor is such much a part of who I am that there was no way to suppress it — I had to work it into my make up tutorial."
Gallagher decided to post the video after seeing her friend Tiffany Carlson's website for women in wheelchairs.
"It's important that those of us with a disability share information with each other," Gallagher said. "That's the only way I've been able to reach any success in my daily tasks and find out about programs that assist me today. When we share information, we make ourselves and others more independent."
From NikkieTutorials taking off her makeup to explain how it has affected her life to Shalom Blac showing off how she covers her burn scars, the beauty blogging and vlogging community has created space for people to discuss vulnerabilities in a non-judgmental forum.
"Sometimes I feel like an ambassador between the world of disabled people and able-bodied people," Gallagher said. "I'm using fashion and makeup as a conversation starter. If a stranger compliments me on my cute dress, or my glittery boots, or my eyeliner — they've made connection with somebody with a disability, which I hope makes them think about disabled people in general differently. "
Watch the full tutorial below: