ModCloth Launches Wedding Line for the Untraditional Bride You've Always Wanted to Be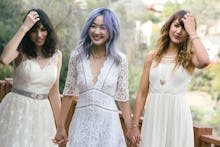 Sorry TLC, not every bride wants to say yes to the traditional long, white dress.
Affordable, colorful and diverse are probably not the first adjectives that come to mind when describing a wedding dress — but that's something ModCloth is hoping to change.
The San Francisco-based online clothing retailer, known for its unique designs, launched a bridal collection on Monday, featuring gowns, accessories, shoes and more, all curated to represent a diverse variety of brides.
Featuring 30 wedding dresses starting at $150 and 50 bridesmaids dresses starting at $70, these dresses — similar to the other items on ModCloth's website — were not designed for one specific body type in mind, ranging from petites to size 28-30 (4X), because, yes, plus-size women get married too.
"We really wanted to make sure we were catering to a diverse silhouette offering for different girls within our community and we felt that maxis, A-lines, shifts, that was really where it needed to evolve into," Nicole Haase, ModCloth's vice president and general merchandising manager, said in a statement according to Racked.
Read more: Model Madeline Stuart Is Challenging Bridal Beauty Norms in New Photo Series
This launch is a fitting expansion for the brand which, in 2014, launched its #MarriedInModCloth hashtag campaign, which showcases a diverse range of brides on their special day.
Unlike other brands that continue to use all white models or cater to one specific body type, ModCloth is joining brands like Target, H&M and River Island in bending antiquated beauty ideals. That's an especially big deal in the bridal space, where magazines and catalogues have long been guilty of catering towards one type of woman (you know the woman we're talking about).
Because, look: Not every woman wants to wear a white, lacy, diamond-encrusted a-line silhouette on her big day. And not every girl looks like the stereotypical image of a bride. Thankfully, brands like ModCloth are doing their part to expand the possibilities of looking quiche on your big day.