A New Virtual Reality Game Lets You Experience What It Was Like to Land on the Moon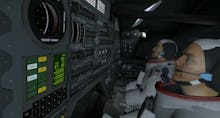 Neil Armstrong and Buzz Aldrin's 1969 moon landing is arguably the most important journey humanity has ever made. But there's a growing generational disconnect from that incredible achievement. Many of us today weren't around to watch the moment unfold or to see how it captivated an estimated 600 million viewers.
Now the company Immersive VR Education has created a virtual reality game that lets players pilot the Apollo spacecraft and land and bounce around on the moon — all from Armstrong's perspective:
The experience includes a historically accurate spacecraft and control panel, with archived footage and audio from NASA. The game was fully funded on Kickstarter, and the creators are developing it for Oculus Rift, HTC Vive and PlayStation VR, all of which will debut this year.
Reading about the moon landing or watching the old broadcast can only get us so far. Experiencing it in VR might help us truly reconnect with the glory days of space travel and inspire future explorers. 
"Our goal has always been to inspire the next generation of scientists, engineers and astronauts, and we do believe that there is a child somewhere alive today on this planet that will one day walk on Mars," the company said in a statement. "We do hope that Apollo 11 VR sets them on this path."
You can watch a preview of the game here:
h/t Yahoo News