We Tried Spray Can Nail Polish and Ermahgerd It Was a Disaster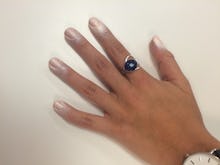 We've seen quick-drying nail polish, without-the-lamp gel colors and fancy cuticle care, but never spray-on nail polish — until now.
Two questions immediately came to mind when U.K.-based beauty brand Nails Inc. announced it was creating such a product last November, setting off an internet frenzy (Refinery29 even deemed it "the future"):
"Why had nobody thought of this before?" and "How can we get our hands on it?" 
On its website, Nails Inc. Spray Can Nail Polish claims to be "the fastest way to get perfectly polished nails" with a "technique [that] applies polish evenly and efficiently in seconds." It's founder claims the Paint Can will "reduce dry time and [provide] quick, easy ways to apply color when on the go."
Read more: The Disgusting Stuff Growing Under Your Nails When You Don't Wash Your Hands
We got our unpolished fingers on a can of this stuff in advance of its release next Tuesday, March 22. So naturally, we wasted no time in getting to spraying. Here are the instructions, which they make super simple — and how it actually went.
Step 1: "You must apply a base coat."
Snap judgment: This looks terrible. Like the work of a 5-year-old, in fact. Also, isn't this supposed to be as simple as spray-and-go?
Step 2: "Shake the Paint Can and, from a distance of 10 to 15 centimeters, spray the polish directly onto the nail area."
Snap judgment: This feels like prepping an audition for a Marvel movie. Also, the spray is incredibly cold and inexplicably hurts a little.
Step 3: "With warm, soapy water, wash away any excess Paint Can polish from skin and cuticles."
Snap judgment: This stuff is very hard to remove. Does this look like a salon manicure to you?
So what's the verdict? While this is definitely a genius idea (who doesn't want to spray and go?), the silver-covered hands and bumpy-looking polish weren't quite what we were hoping for. 
Is a tiny spray can of polish a cool idea? Yes — but so are the huge assortment of split end creams or anti-aging elixirs we see across the internet that never give the proposed results IRL. A few trends are dangerous, many take it too far and some — like this one — just don't work as well as we'd like them to.
If we had time to sit down and meticulously apply the spray, would the results have been different? Probably. Did we wait long enough to remove the excess polish? Maybe not. But for a product that promises a "grab and go" aspect, the process was more of a "spray paint all over your hand and scrape it off until you're red."
Guess we'll stick to polishing.