Donald Trump's Anti-Muslim Voters Forget That He Actually Has Muslim Supporters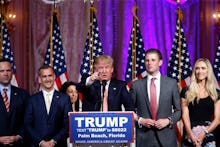 Remember back in December when Donald Trump called for a "total and complete shutdown of Muslims entering the United States?"
Republican Party establishment figures like Senate Majority Leader Mitch McConnell, House Speaker Paul Ryan and RNC chairman Reince Priebus all condemned the comments. "To show how completely and totally unworkable it would be, King Abdullah of Jordan, a great friend and ally of ours, would presumably not be able to come to the United States," McConnell said, according to CNN. "How about President Ghani of Afghanistan, a great friend and ally of ours who would not be able to come to the United States. This suggestion is completely and totally inconsistent with American values."
It's a position that earned him the ire of plenty of Americans who called it an example of his bigotry. 
And many Muslim American civil rights groups were outraged:
But scores of other Americans supported it. Nearly 7 in 10 GOP voters in Tuesday's primaries supported Trump's proposed ban.
Despite Trump's rhetoric, he's still managing to appeal to some Muslim American voters. Take Saba Ahmed of the Washington, D.C.-based Republican Muslim Coalition. She's been vocal about her support of Trump.
"I think because of his anti-establishment [views] and his business background gives hope for economic policies Republicans traditionally aligned with," Ahmed told ThinkProgress. "He has worked with Muslims all his life, and he has properties all over the Middle East, despite [his] anti-Muslim rhetoric, and many business dealings with our constituency and knows we're good people."
Other Muslim Trump supporters rationalize his proposed ban with his desire to end terrorism, according to Time. "Most are outraged at Trump saying he wants to ban Muslims from entering America, but I support that as a Muslim person, because we have to stop what is happening and work with other Muslim countries to stop terrorism," Adam Warshauer, a Florida man who identifies as Sufi Muslim, told Time.
 "If you stop Muslims from entering the country, it forces everyone to look at the problem."
If this election is proving anything, it's that democracy is important, but voters — and, more importantly, elections — aren't easy to pin down.