These Snapchat Makeup Tutorials Are the Most Terrifying Thing On the Internet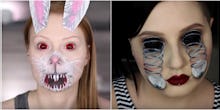 You are lying if you say you've never been terrified by your own selfie after using a Snapchat filter. They are often too realistic, creepy AF or just plain fugly. Now, thanks to a number of talented makeup vloggers, you can get these off-putting looks IRL with step-by-step tutorials.
While some makeup tutorials are sources of inspiration, such as Meag Gallagher, a quadriplegic woman explaining her makeup routine, or burn survivor Shalom Nchom covering her scars, these videos are flat-out useless — but somehow completely necessary. Ah, Snapchat.
Read more: This Girl Recreated a Snapchat Filter on Her Face, and Oh the Lengths She Went To
Ever since YouTuber Mayra Isabel's drag queen filter makeup tutorial went viral earlier this month, a host of others have followed suit. We decided to dig up some of our favorites and rated them on a scale from one ("I'm scared but I can't look away.") to five ("I'm hiding under a blanket and never coming out"). 
Eyes On Eyelids Filter
Lex, the 22-year-old makeup artist behind Madeyewlook, recreated a number of Snapchat filters for your viewing pleasure. She is known for her extreme makeup art and body painting and her rendition of the bunny and eyes-on-eyelid filters are too spot-on for our comfort. Even more shocking is that each filter only takes about 15 minutes to recreate.
"I love being able to create characters in which I can actually become the character, and take myself into a different personality and perspective," Lex told Mic. "The best part about what I do is being able to be anyone and anything on any given day. "
What it looks like as filter:
What it looks like IRL:
Rating: This earns a four for creativity and execution.
Killer Bunny Filter
She did this one, too.
What it looks like as filter:
What it looks like IRL:
Rating: This is definitely a five, no question. The ears alone!
Scary Face Filter
Lex has also blessed us with this alarming filter, which turns anyone's face into a terrifying monster visage. 
What it looks like as filter:
What it looks like IRL:
Rating: Another five, because we are nearly convinced this is real. 
Aaron, aka FacePaintsAndThatJazz, also tried out the scary face. How long does it take these people to get this stuff off?
Rating: This one has to be rated over five, because we are definitely not sleeping tonight.
RclBeauty101, a popular lifestyle blogger with over 7 million subscribers, recreated the below look along with the huge tears and rainbow throwup (#TBT) within the same video. 
Rating: Four, on account of the extreme mouth close-up.
Drag Queen Makeup Filter
TheClairesBeauty, a Netherlands-based beauty vlogger, recreated the filter that even you thought was real when you first saw it. 
What it looks like as filter:
What it looks like IRL:
Rating: Two, because this is nowhere near as scary as Mayra Isabel's.
From beauty inspired YouTube videos to fashion brands taking fans behind the scenes at their runway shows, it's clear that Snapchat is more than just an addictive photo-sharing app.