Missy Elliott and Queen Latifah Discuss the One Thing That's Missing From Hip-hop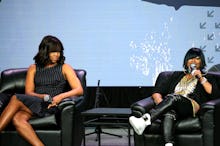 AUSTIN, TEXAS — Few MCs' words hold more weight than those of Missy Elliot and Queen Latifah's. They've been innovators since their very first bars, delivering empowering messages of female solidarity as well as sex and body positivity into irresistible, booty-shaking anthems. 
When they speak, you listen — and the two hip-hop matriarchs had a lot to say during their keynote panel alongside first lady Michelle Obama and songwriter Diane Warren, specifically about hip-hop.
The two waxed nostalgic about their inspirations, both naming powerful female artists like MC Lyte, Salt-N-Pepa and Teena Marie. And it led them both to the same conclusion about hip-hop today: It needs more women.
"Missy and I sit around on the phone talking about what's missing in hip-hop — women," Queen Latifah told the packed auditorium at the Austin Convention Center. "Women is what's missing in hip-hop."
Of course, there are some. Nicki Minaj is one of the biggest rappers in the world. Iggy Azalea has a few hits under her belt, as fraught as her relationship with the hip-hop community is. Tink, Rapsody and Nitty Scott have all been on the come up for years, but frequently don't receive nearly as much attention as male rappers for the songs of the same caliber.
That poses problems for the health of the genre, according to Latifah and Elliott.
"You're not going to get as diverse a sound in the music as you should," Latifah continued. "I'm sorry, when you remove a woman's voice from anything, you are lacking. There's no possible way you can capture the best when you remove women from the equation."
How to bring these overlooked female voices to the fore is another question entirely. Encouraging more high-profile MCs to feature more female rappers on their tracks for more than just romantic counterpoint — something Kendrick Lamar did brilliantly on "Complexion" — would be a great start. 
Expand the roles female MCs can fill and more voices will rise.
"You can become something," Missy Elliott said, telling the story of her career beginnings, when she was told she would never make it as a rapper because she didn't have the body to fulfill the traditional femme fatale role. "All is not lost because someone tells you, 'You don't fit the mold.'"