Model Clémentine Desseaux: Why Do Plus-Size Models Always Have to Get Naked?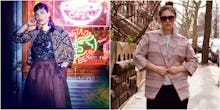 Plus-size models are (slowly) becoming more recognized in the beauty and fashion industries. But these models often have to get naked or wear little clothing in order to get noticed. One plus-size model, Clémentine Desseaux, is calling out that unfair reality.
"I'm a little over this whole "body thing," she told The Cut. "Yes, I like my body and we already have that covered. Yes, it's nice, yes, it's curvy. Do I want to be naked all the time in magazines because people think my body is only good to be naked? No. Do I want my face out there more? Yeah."
Or, as she put it to Mic, "Why are the 'plus-size' models related to being mostly nude in magazine and in general press?"
If you look at recent plus-size modeling coverage, it's often centered around lingerie (such as the I'm No Angel Lane Bryant campaign) or bikinis (like recent Target campaigns and Ashley Graham's Sports Illustrated cover). "Plus-Size Models Bare All" and "These Nude Photos of Plus-Size Models Are So Hot" are headlines spewed across the internet. 
It's as if these models, thanks to their curvier bodies, have to prove that they're sexy and constantly affirm their own love for their bodies in order for viewers to love them back. 
Read More: The Numbers Are In, and Fashion Week Still Doesn't Have Time for Plus-Size Women
Plus-size models on the whole were not well represented during Fall 2016 fashion weeks — there were only six appearances total. In other words, when models are fully dressed (mostly, at least) walking down the runway with attention placed on the pieces of clothing, there isn't a place for curvier models. 
"Unfortunately, models, no matter their size, are simply treated as bodies. Fashion still judges them on the basis of their looks," Amanda Czerniawski, a sociologist who went undercover as plus-size model wrote for HelloGiggles. "Modeling reduces them to curves and numbers on a tape measure. They are not always perceived as women but breasts, bums, and hips. After all the work they do, plus-size models are still objectified and sexualized bodies."
The issue goes beyond the models' presentation and into the clothes being offered to plus-size women. "Like why can't we find cool clothing, high-quality, affordable clothing, in store, above a size 12?" Desseaux told Mic. "How come high fashion is still so closed to diversity when their clients are so diverse and are screaming for a beautiful diversity?"
A baby step here or there, such as putting a plus-size model in a bikini on a national magazine for the first time or having one plus-size only runway show during fashion month, is not going to change the diversity conversation or, as Desseaux puts it, "make us feel good" or "keep us happy.'" 
Roster is not an issue. We know that there is a wealth of plus-size models waiting to be featured in a high-fashion campaign, wanting to walk the runway in Paris and hoping to see their face in a clothed ad campaign. 
Companies, especially high fashion brands, tend to stick to the status quo. As Desseaux suggests, it will take a classic name-brand, such as the Chanels and Diors of the industry, to make a statement. With an "anything he can do, I can do better" attitude, other brands are likely to follow suit. Until then, one model a year being featured on a national magazine will be considered "groundbreaking" or a "huge step forward" for the plus-size industry — even if, in reality, it's too small a step. 
"The industry is so large and so diverse, there's room for everyone," said Desseaux. "I think the plus-size industry is booming and everyone wants to get a piece of the cake without necessarily taking too [many] risks or changing too [many] things. I wish companies that actually have the means to do it would jump all-in and change the offer and the face of fashion today."