Michigan Students Wrote a Racial Slur on Their Stomachs and Posted Pictures Online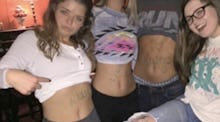 Four Michigan high school students decided that it would be funny and smart to do this:
The kids are enrolled at Gross Pointe South High School, which announced this week that all four students have been suspended after scrawling the word "nigger" across their stomachs at an off-campus weekend party. But those suspensions happened after other students at the school, who were alarmed by the photos that initially circulated on social media, were reportedly threatened for turning the students in. Two students who made the threats were also suspended.
"The threats were basically around the whole idea of snitches and why did you tell on these four?" Grosse Point Public School System Superintendent Gary Niehaus told Fox 2 Detroit. 
The news has sparked some debate online about whether the suspension was too harsh of a punishment.
While others pushed back:
And pointed out the irony:
At least one student at the school thinks the incident can be used as a learning moment. "I think that they should be suspended, but I also think that there should be more discussion about it and discussion about racial awareness," Phelan Johnson, a student at the high school, told the Fox 2 Detroit.
Only 185 of the school's nearly 1,700 students are black, prompting the question that's roiled several university campuses in recent years: How should predominantly white institutions proactively engage discussions of racial justice? For now, responding to outwardly hostile actions by the school's white students is one place to start.