One Tweet Explains Liberal Anxiety Over Merrick Garland's 'Tough on Crime' Past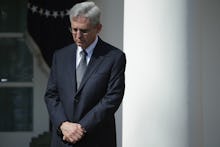 When President Barack Obama announced that Judge Merrick Garland of the U.S. Court of Appeals for the D.C. Circuit would be his nominee for the vacant seat on the Supreme Court, the pick was considered relatively safe by liberals. Sure, Senate Majority Leader Mitch McConnell has already promised that the Senate won't consider Garland's nomination, but Garland also has a long record of Republican support. 
At least some of that support may have to do with Garland's "tough-on-crime" approach to criminal justice, which Obama touted in his official announcement Tuesday.
Those three words — "tough on crime" — have played an important role in the 2016 presidential election. Hillary Clinton seems to have survived the worst of the backlash to her 20-year-old comments about "super predators," a '90s-era myth about allegedly gang-involved youth of color, along with the 1994 crime bill. But it's nonetheless opened up a conversation on both ends of the political spectrum about the tough-on-crime policies that have driven up America's prison population. 
Vox's German Lopez suggested that there are several reasons why Garland may even be to the right of notoriously conservative justice Antonin Scalia, whose place he would be taking on the court if confirmed. 
For now, the world — and Garland — will have to play along with the Republicans' waiting game.