Questlove Pays Tribute to Father Lee Andrews After Legendary Doo-Wop Singer's Death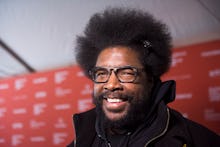 Ahmir "Questlove" Thompson, the longtime drummer for the Roots, has become legendary for his encyclopedic knowledge of black music, but he's always been clear about his greatest inspiration: his father Lee Andrews, a famous Philly doo-wop singer who passed away this week at the age of 79. Andrews rose to local stardom as the lead member of Lee Andrews & The Hearts in 1953, and Questlove touched on that history and much more in a touching tribute he posted on Instagram:
The caption reads:
In his 2013 book, Mo' Meta Blues: The World According to Questlove, the longtime drummer wrote about how his father's influence helped him land a spot at the prestigious Philadelphia High School for the Creative and Performing Arts, where he'd later meet fellow Roots member Tariq "Black Thought" Trotter:
M parents didn't resist the idea of CAPA, but it quickly became apparent that I had decided too late ... auditions had been held all the way back in January, and my application was rejected almost as soon as I submitted it. That's when my father stepped in and played the Lee Andrews card. It wasn't the kind of thing he did very often, but when he did, it worked like a charm. I didn't even have to audition.
Rolling Stone points out that Andrews' last recorded project was a 1973 album with a group called Congress Alley. Here's a sampling of his music below:
 He died on Wednesday. Details of his death have not been released.