If Your Sims Could Text, These Are the 10 Messages They'd Send You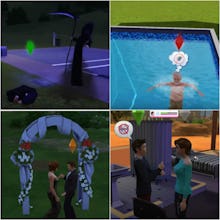 The Sims is one of the most popular computer games of all time, in part because it's an ideal way for people to unleash all the aggression we accumulate in our daily lives. Whether you're creating a Sim with horrifying green scales or slowly and ruthlessly murdering an entire family in a fire, The Sims is the perfect vehicle for wreaking havoc on your unsuspecting characters. 
Of course, The Sims is also a game where you can comfortably escape into a beautiful fantasy world, a world where typing the word "rosebud" a bunch of times can make you rich and kissing 50 times can make you pregnant. Either way, the beauty of The Sims is that you have all the control. 
With all the things we've been making our Sims do for more than 15 years, we couldn't help but wonder: What would they say to us, if they ever got the chance? Here are a few ideas. 
If we ever think our lives are hard, just imagine how bad our poor Sims had it.