Before Instagram Hair Trends, There Was (and Always Will Be) Gwen Stefani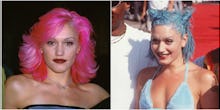 It's difficult to think back to the days before social media, also known as the time before crazy hair trends like pumpkin spice hair or dyed armpit hair were regaled as innovative. 
But decades before all of this, there was one spunky rocker chick from Anaheim, California, the lead singer of a band you may have heard of called No Doubt. Of course we're talking about Gwen Stefani.
Read more: Gwen on Her Breakup From Gavin: "I Was Literally Dead, Like Panicking"
The now-solo artist and The Voice judge, who just this week released her third solo album This Is What The Truth Feels Like, is the very definition of a trendsetter. From hot pink hair and blue topknots to rhinestone facial jewelry, Stefani wore whatever the fuck she wanted to, when she wanted to, regardless of whether it was considered "in" or not.
As it turns out, a lot of it eventually came into style. In fact, of all the recent bold hair trends (and there are a lot), most of the ones we view as groundbreaking today were actually done by Gwen first — and she was a lot more hardcore about it than we'd dare to be today.
We may think #DenimHair is daring, but Gwen was blue years ago.
Stefani didn't dye her hair a light shade of blue and call it "denim," she went for a saturated baby blue look and added topknots and face jewelry for pizzazz. Taking it truly next level, Stefani fashioned the look with a furry baby blue top. #Sensible
Before we were trying #UnicornHair, Gwen went full-on pink.
Instead of dyeing her hair a light, washed-out shade of a bright hue and calling it #UnicornHair or #OpalHair, Stefani went full-on, no half-measure hot pink. She was one of the first people (along with P!nk) to sport bright fuchsia locks, ushering in a trend later replicated by Cara Delevingne, Demi Lovato, Lauren Conrad and so many others.
Gwen was the O.G. of dip-dyed hair.
Dip-dyeing became such a huge trend that temporary hair chalk became a color maven's must-have. Leave it to Stefani to have mastered the look years before, when she weaved between blonde, black and blue seamlessly.
Long before we felt cool rocking short waves, Gwen was doing it.
All those loose "long bobs" that you see all over Instagram? Before she was even famous, way back in 1989, that was Stefani's hair of choice. These photos from No Doubt's early days are a nostalgic reminder.
No one does the ubiquitous ombré better than Gwen.
If you are going to ombré, ombré like Stefani. Her most recent head-turning (ha) look shows that even now, at 46 years of age, she's still in touch with her dark side.
Gwen Stefani, thank you for giving us three decades of serious #HairGoals.