Meet Nate Terani, the Muslim Vet Who Donald Trump Supporters Told to 'Get a Job'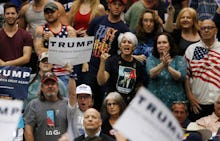 Even military veterans who make their living working with disabled fellow veterans don't stand a chance at Donald Trump rallies these days.
Nate Terani, 38, is a Navy vet who lives in Arizona. He also happens to be Muslim, and over the weekend, he attended a Trump rally with a sign that read, "Vets to Trump: End Hate Speech Against Muslims." Since, you know, that's been a thing time and again as Trump has risen to the top of the Republican race for the presidential nomination. 
"He's the one that's utilizing hate speech to incite the American public against Muslims, in particular," Terani told Mic. 
Terani is part of an organization called Veterans for Peace, which also houses a smaller group called Veterans Challenge Islamophobia. He attended Trump's rally with four other people — two veterans and two Arizona State University students — who were also doing what he called "banner drops" to call out Trump's anti-Muslim rhetoric. But almost from the outset, the scene was tense following a fiery speech from Sheriff Joe Arpaio, in which the right wing favorite lambasted protesters who had earlier shut down a major freeway to protest Trump.
"During the rally, Sheriff Joe Arpaio spoke, and it felt like he was inciting the crowd against protesters," Terani said. "It was almost this vicious tone that he's bragging about three of the protesters who shut down the highway, and you could just feel in the crowd that they were getting angry and getting incited."
Terani said that he "got a little scared," but seemed reassured that people knew he was a veteran because he was wearing a U.S. Navy baseball cap that identified him as one. That's when he dropped his own banner — which didn't go over so well with Trump's supporters, who heckled him and reportedly told him to "get a job." 
Here's video of a portion of that confrontation:
The irony is that Terani does have a job: He's a coordinator at a nonprofit, which is based in Phoenix, Arizona, that helps veterans living with post-traumatic stress disorder and traumatic brain injury. Joan Walsh, a national affairs correspondent at The Nation, witnessed the whole thing and reportedly came to Terani's aid:
Afterward, Terani started a Twitter account to thank Walsh and speak out about the incident:
Trump's rallies have been sites of continued violence in recent months. Protesters have been sucker-punched, kicked and spat on, while Trump has blamed them for their own mistreatment. "They're really stopping our First Amendment rights," Trump told George Stephanopoulos on ABC's This Week about the people who "stand up and try and disrupt" his campaign rallies. When Stephanopoulos challenged him on the point, Trump dug in even further.
"These are professional agitators, and I think that somebody should say that when a road is blocked going into the event so that people have to wait sometimes hours to get in, I think that's very fair, and they should be blamed there, too," Trump said.
In Terani's case, his actual profession didn't matter — but his message against hate speech did.
"Whether or not I'm a Muslim, I'm still a military veteran and I took an oath to support the constitution which upholds freedom of religion," Terani said. "That oath doesn't have an expiration date. Being Muslim compounds it for me, but the number one factor here is that I'm a veteran."