Climate Scientists Are Freaking Out Over 2016's Record-Smashing Heat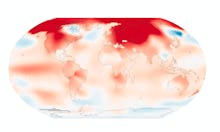 February didn't just beat the previous record for an unusually warm month: It destroyed it. Climate scientists are worried the shattered record means we're getting dangerously close to a global temperature tipping point where it'll be almost impossible to curb the effects of climate change.
A combination of a powerful El Nino event and global warming has driven global temperatures up to the highest they've ever been since record keeping began in 1880. Data from NASA shows average global temperatures increased by 1.35 degrees Celsius in February above the 1951 to 1980 average.
Here you can see how global temperatures have risen above that average since 1980. Red dots show February of each year — February 2016 was a huge spike:
Normally one data point like this isn't enough to fuss over, but climate scientists are taking note: 
"The departures are what we would consider astronomical," National Oceanic and Atmospheric Administration (NOAA) climate scientist Jessica Blunden told the Associated Press. "It's on land. It's in the oceans. It's in the upper atmosphere. It's in the lower atmosphere. The Arctic had record low sea ice. Everything everywhere is a record this month, except Antarctica. It's insane."
This is bad news for efforts like the December climate talks in Paris designed to keep global temperatures from rising more than 2 degrees Celsius over pre-industrial averages. Climate scientists warn that those two degrees represent a dangerous tipping point. Earth can only handle so much global warming, and we don't know what may happen if temperatures spike too much.
"NASA dropped a bombshell of a climate report," said Jeff Masters and Bob Henson, who analyzed the data on Weather Underground. "This result is a true shocker, and yet another reminder of the incessant long-term rise in global temperature resulting from human-produced greenhouse gases. We are now hurtling at a frightening pace toward the globally agreed maximum of 2 degrees Celsius warming over pre-industrial levels."
Taken together, December 2015 to February 2016 also set a record for warmest winter ever recorded, according to NOAA. 
h/t the Guardian