The Genius Way Kanye West's Own Fans Outsmarted Him at His NYC Pop-Up Shop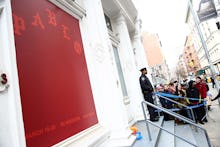 On the afternoon of March 17, Kanye West sent out a single tweet. No, it was not another snarky dig at Taylor Swift or a new argument with Wiz Khalifa over album titles. Instead, he announced a New York City pop-up shop for his recently released album, The Life of Pablo. 
While there were no details about what would be sold or for how much, there was a time, date and address. That was all he needed to mention in order for a crowd of 500+ to show up to 83 Wooster on Friday afternoon, the first of a three days that the pop-up store would be open for business.
And so, not immune to the hype, we packed up early on Friday afternoon and made the slow descent into chaos.
With a line down the block and around the corner, if you weren't one of the overnighters that set up shop the night before on the street, it was likely you were going to wait for hours to get in — if you got in, that is. (We did not, despite 90 minutes of waiting.)
So what was he selling anyway? No, this was not a chance for fans to get their hands on the sold-out YEEZY BOOST 350s. Instead, West was hawking... album merchandise, including basic and overpriced $45 T-shirts and $350 bomber jackets. It doesn't seem like an exaggeration to say the number of police officers present likely outnumbered the number of clothing sales.
But there were some individuals who clearly made the most of the items there...
A toast to the scalpers: Though your usual crop of diehard 'Ye fans was present, the line was mostly full of scalpers — people planning on buying as much as they could (which in this case, was two of each item) and then selling it off immediately at a jacked-up price. In some cases, that meant selling products 20 feet from the door as soon as they had exited.
Read more: 7 Charts Show How Drastically Kanye West's Music Has Evolved
If you were wondering who could possibly want to spend all night waiting to buy Kanye West's album merch, look no further: It's these people, most of whom were going to receive a hefty sum for a few hours of waiting in line. And who could blame them? It's a lucrative industry all its own. In April, Complex reported that the sneaker resale market alone is worth an estimated $1 billion. Their documentary, Sold Out, highlighted some teenagers as young as 13 years old making thousands reselling Supreme sneakers.
"I've already made my initial back, and I'm seeing a little bit of profit," one reseller told Fashionista. "The second day I only went out for T-shirts and hats because those are the hottest things. Between the two days I spent about $4,900; I should see back about $7,500, so about $2,500 profit." 
Many of the Pablo products are already being sold on eBay for outrageously marked-up prices. (Come on, $25 for shipping?) 
Spending time at the pop-up shop proved that the demand for Kanye's merch might be largely due to his own fans outsmarting the system. After all, the combination of resale popularity over names like Kanye West and the Kardashian/Jenner brood means there's a lot of money to be made — not just for West, but for his feverish fans as well.
Sorry to break it to you, Kanye, but maybe you should spend less time begging Mark Zuckerberg for money and more time tracking down those stealing money directly from your $1,000 Yeezy Season 1 sweatpants pocket.